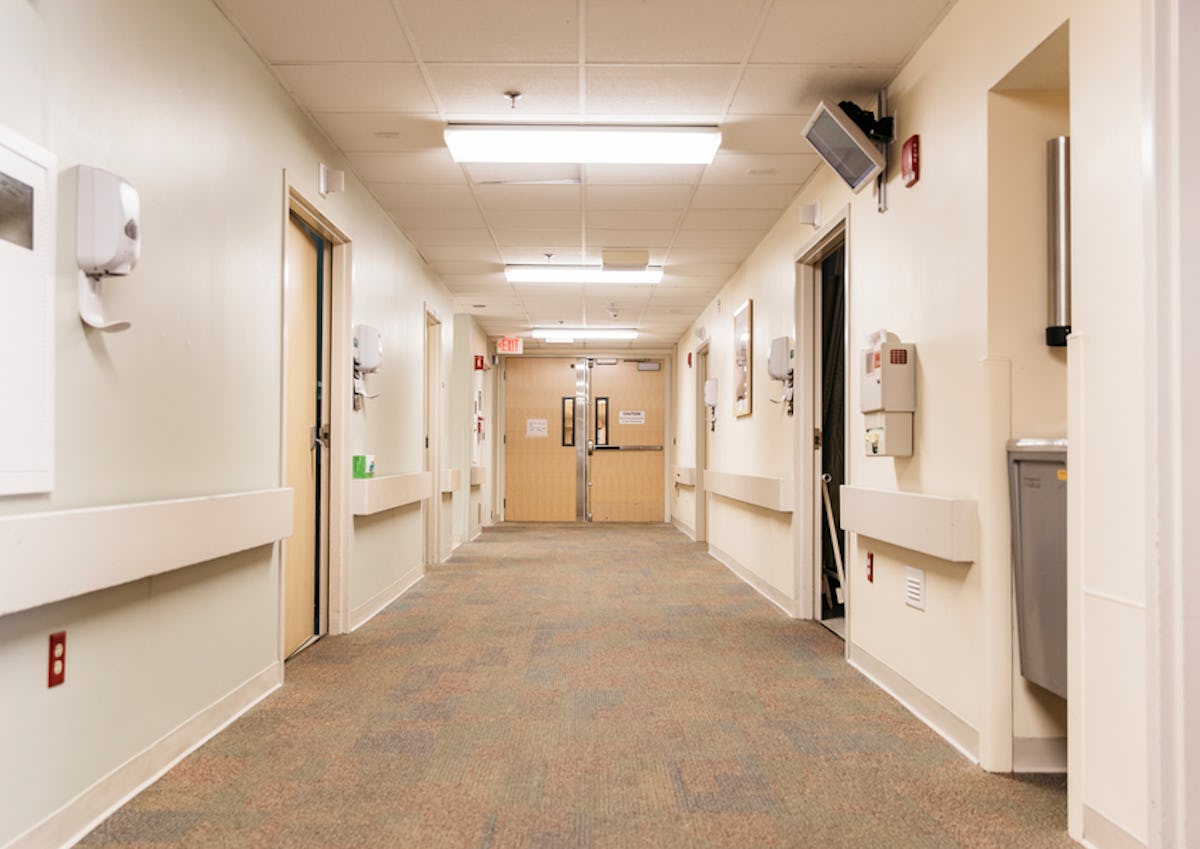 A Woman Delivered Her Own Baby In A Hospital Hallway & The Photos Are Unreal
If you want to start your weekend countdown off with a remarkable and life-affirming story, I've got you covered. If you're cool with graphic photos of child labor, you will likely be just as blown away as I was by the images of a mother in Kansas, Jes Hogan, delivering her baby in a hospital hallway. Just moments after Hogan arrived at the ER at Via Christi Hospital, her baby was crowning and ready to arrive, but as you'll see, it was she and her husband Travis who were truly responsible for the successful delivery of the child. The incredible process was documented by their birth photographer, Tammy Karin.
As you might imagine, it appears the whole thing happened very quickly. all happened quickly. Women's Health reports that, on July 23, 2017, Hogan was at home experiencing normal contractions that shifted suddenly to more intense pains — pains that she knew indicated the baby was on its way. Her water broke just as she was getting out of her bed. Hogan and her husband rushed to the hospital at 3 a.m., and en route, she contacted Karin, who arrived in time to capture the entire thing on film and video. Hogan had to begin disrobing as they walked down the hall, as she could feel the baby's head. She reportedly delivered her baby within minutes of being inside the hospital.
While Karin did try to alert the nurses who eventually came to help, her husband Travis facilitated and caught the baby during the last push.
Hogan said in her birth video that Travis did so with "no hesitation." Maxwell Alexander was welcomed into the world by his parents right there on the tile floor of Via Christi Hospital.
Photos before, during, and after the birth show all aspects of the delivery. Hogan was deeply thankful to her birth photographer for both her artistic presence and her help in assisting the birth, as well as the nurses at the hospital.
And although young Max is the couple's first boy, Hogan and Travis are already parents to five daughters, according to Women's Health. The girls were thrilled to meet their new brother, most especially their two-year-old, who would simply not let go of Max, Hogan said in her birth video.
Like me, you might be wondering just how common experiencing a sudden, sort-of-DIY birth like this really is. According to the online resource BabyCenter, while it's pretty rare to experience an emergency birth — meaning a birth that happens with no prolonged labor symptoms, or "only intermittent contractions" — they do happen.
According to a 2010 report from the Centers for Disease Control and Prevention, which cited results of a 2006 survey, about 17 percent percent of at-home births were unplanned. Generally, labor takes a few hours or longer.
This appears to be especially unlikely for first births, but if you've experienced fast births with previous children, it's important to maintain awareness of signs of labor and act on them quickly as they happen, just as Jes Hogan and her husband did. According to WhatToExpect.com, signs that indicate the birth is happening include "strong contractions" that are about three or four minutes apart, water breaking, and "a strong urge to push."
Parents.com reports that one way to ensure safety in the event of a sudden birth, especially if you're not able to make it to a hospital or clinic in a mad dash, is to immediately call 911. Make sure the mother is comfortable and in a clean space, and that you have plenty of towels and blankets. Additionally, WhatToExpect.com says it's important to "leave the cord and placenta attached and elevated above the level of baby" until the EMTs arrive, especially if the baby has not yet started to breathe on its own. Oh yeah, and try to stay as calm as possible throughout all of this.
Marjorie Greenfield, M.D., author of The Working Woman's Pregnancy Book, also told Parents.com that "when things go quickly, everything is usually fine" — even though it seems scary.
And in Jes Hogan's case, it definitely was. Congrats to the happy couple, and welcome to the world, baby Maxwell!