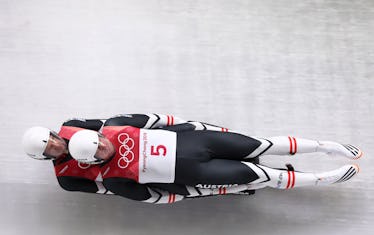 Double Luge Is 100% The Best Sport At The Olympics & The Hilarious Photos Prove It
Alexander Hassenstein/Getty Images Sport/Getty Images
In case you you've been under a rock for the entire month of February, the Winter Olympics have been in full swing. From figure skating to snowboarding, these winter sports are all about grace and skill. However, this one particular sport has us scratching our heads. These photos of double luge has Twitter laughing so hard that it's clear this is everyone's favorite sport to date.
While luge has been a popular sport among Olympic enthusiasts over the years, double luge has flown a little bit more under the radar throughout the Winter Games. However, the 2018 PyeongChang games proved to be the year these Olympians got their due, and the reactions are priceless. Here's the lowdown to how the event works: a taller luger lays on top of the shorter teammate on a sled, and they slide and navigate their way down a slippery slope.
Seems pretty straightforward right? Well it is. However, when the event is captured on camera, it's a moment that I personally cannot handle. Don't get me wrong, I'm not trying to discredit the sport in any way. This is the Olympics we're talking about. I'm hardly one to judge.
But I'm clearly not the only one who can't ignore how awkward this sport is. Twitter agrees.
Just look at these photos.
Since Twitter found out about double luge, a few people have decided to take up the sport themselves.
Beijing 2022 you better be prepared.
While we may giggle at the absurdity of the sport, let's keep in mind that it's probably way tougher than we think.
Ron Judd, an expert on luge and contributor to The Seattle Times gave a full rundown to CBS Sports on what exactly performing in double luge entails.
He said,
Doubles luge teams sit tightly bunched, with the heavier slider or 'rear driver' on the top, or rear, of the sled and the lighter, front 'driver' nestled between his legs. There is no weight limit per se for the athletes, but the total weight of the sled and its driver(s) is tightly controlled; lighter athletes often add supplemental weights to their bodies — under a complicated, prescribed formula—to hit the maximum allowances. Doubles lugers, for example, are allowed up to 180 kilograms, or 396 pounds, of weight between them. And yes, officials do check: Sleds and sliders are weighed in after each run.
Well, I guess double luge can't be that romantic under such strict weight requirements. After all, weight is hardly ever a sexy topic to discuss.
The final round of double luge aired on Feb. 15 (Feb. 16 South Korea time), with German Olympians Tobias Wendl and Tobias Arlt taking gold.
Yes you did read that correctly. Two Tobiases competing in double luge. I mean c'mon, the jokes are writing themselves people.
This marks the second Olympic gold medal for the double luge team, as they also conquered the 2014 Sochi Winter Games. Artl spoke to NBC Olympics about what this win means to him, and how incredible it is to have claimed it two consecutive times.
He said,
It's unbelievable. One-time Olympic champion is just incredible, and then to be a second time for years later in the same spot, it's so amazing.
Wendl also relayed to NBC Olympics about his disbelief at the win. "I have no words for this," Wendl told NBC Olympics. "It was just incredible."
No words are needed Wendl, because pictures truly do say 1,000 words.
Following Artl and Wendl's gold medal win was Austria's Peter Penz and Georg Fischler claiming silver, followed by bronze medalists Toni Eggert and Sascha Benecken, also of Germany.
We may be cracking jokes left and right, but they're the ones taking home an Olympic medal. So I guess joke's on us.