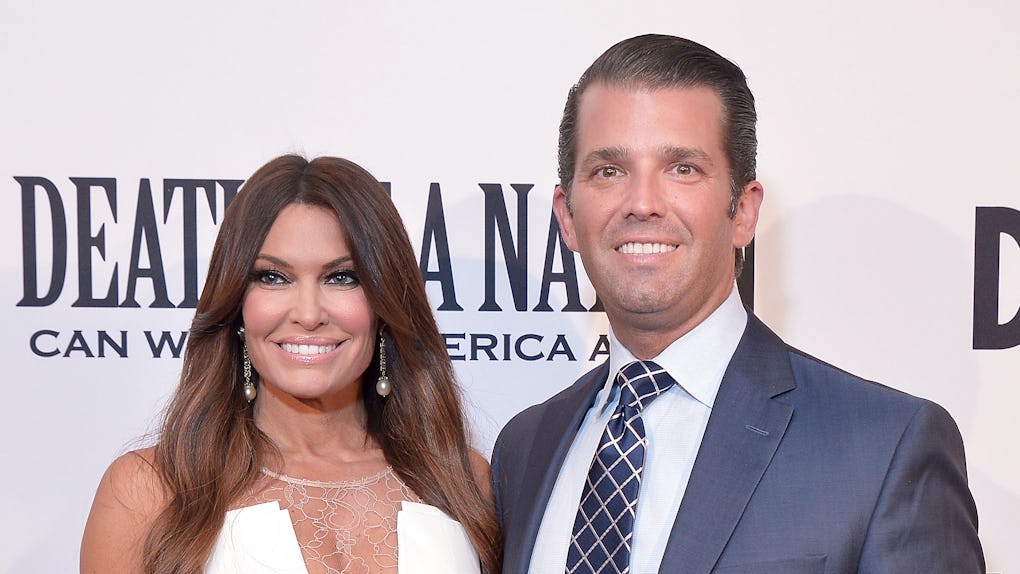 Shannon Finney/Getty Images Entertainment/Getty Images
These Photos Of Donald Trump Jr. & Kimberly Guilfoyle's Gator Hunt Are Something Else
Donald Trump Jr. and Kimberly Guilfoyle recently took their romance to the swamp, and the photographic evidence is, well... something else. On Saturday, Sept. 8, the conservative heavyweights headed to Louisiana to help raise money for a local Republican's campaign, which included an annual $5,000-per-head alligator hunt. These photos of Donald Trump Jr. and Kimberly Guilfoyle's gator hunt show the avid hunters making gator gumbo and cheesing for the camera next to cooked alligators, and I almost can't handle it.
On Saturday, alligator hunting was the name of the game as conservatives gathered to raise money for Louisiana Attorney General Jeff Landry, according to the event website and social media posts shared by attendees, per The Daily Mail Online. In a Facebook video posted by one of the guests, Guilfoyle can be seen praising Landry in a speech before the hunting commenced. She called the Republican a "a real winner" and teased Trump Jr. that she was expecting him to bag some gators during the big event because "Mama needs a new pair of boots." Whelp. Judging from her Instagram post of the event, it looks like Trump Jr. more than delivered.
The former Fox News host took to the social media platform to share not just a photo but a full-on video and photo collage of her stirring a steaming cauldron of alligator gumbo (while Beyoncé's hit "Single Ladies" plays in the background), making a duck face in a selfie next to a cooked alligator, and some close-ups of the grilled gators. You know, just in case you needed that in your life. TBH, it's a lot, and I'm a little shook swiping through the slideshow.
"Making gator gumbo in Lousiana! Here to support AG Jeff Landry! #maga@donaldjtrumpjr@charliekirk1776@sergiogor1@pambondi#la#louisiana," she wrote.
At least one Twitter user @MikeSington couldn't help but poke fun at the less-than-glamorous date.
Another Twitter user couldn't get over the close-up shots of the alligator calling it "disgusting and kinda creepy." Again, the close-up shot of hunted alligators is a lot to handle.
Trump Jr. also headed to Instagram to share a few of the same shots from their time in Louisiana. He captioned the photo montage, "Great day in the Louisania [sic] bayou for LA Attorney General Jeff Landry's annual gator hunt with @agjefflandry@stevescalise@repbrianbabin@kimberlyguilfoyle@pambondi Great food, great friends, great times. #la#cajun#creole#bayou#louisiana."
At least Trump Jr.'s photo doesn't include any close-up images of cooked gator.
This isn't the first time that the couple have taken their relationship to the hunting grounds. Just a week ago, the pair were hunting for mountain goats in the northern Yukon on Sept. 2, according to Axios. Per the site, Trump Jr. said, "When we set up these hunts, we tell the outfitters, 'We want you to take us where you can't take your other clients because they can't handle the terrain,'" so it sounds like they're pretty confident in their hunting abilities. Plus, with Trump Jr.'s plans to hit the campaign trail to raise money with the midterm elections just around the corner, I have a feeling that we'll be seeing a few more hunting fundraiser photo-ops.
This also isn't the first time that photos of this couple have gotten less-than-stellar reviews. Back in July, Guilfoyle posted a shot of the couple looking a little stiff with what looks like slightly forced smiles, and people couldn't help but notice that there was a very soft-focus filter going on. Chrissy Teigen even hilariously captioned the post on Twitter, "hello we are robots beedoo boop smiling is opening your lips and exposing your teeth until you feel a light tension on the outer corners of your mouth beep blurp we are smiling boop beep."
TBH, I would have preferred some soft-focus glamour shots from the couple's gator hunting date. Now excuse me while I go and try to wipe the images of cooked alligators from my mind.