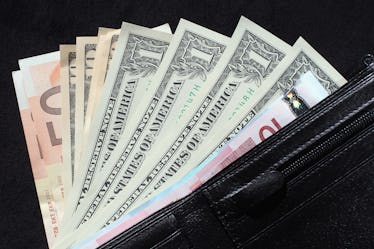 Student Loans Are Rough, But There Are Different Ways To Pay Them Off
Dan Kitwood/Getty Images News/Getty Images
First comes the countdown to graduation, then comes another suspenseful period: the six-month grace period of loan deferment. For many students who are inching closer towards receiving their degrees and have the common misfortune of student debt, those two milestones stand between them and the responsibility of finally paying back that debt. It won't be fun, to say the least, but there are options for paying off student loans that could make life just a little bit easier.
Make no mistake about it, either, many people around the country could use those options. The national student loan debt — the combined amount of money that borrowers owe in student loans — has been over $1 trillion for years, according to the Federal Reserve. Plus, numbers show that a large chunk of borrowers are late in making payments on their loans. Around 18 percent of people who borrowed student loans from the U.S. Department of Education were at least 31 days late on their payments in June 2017, per Bloomberg.
Simply put, a lot of Americans have student loan debt, and a good number of people seem to have real trouble paying those debts back. That's where the multiple options borrowers have come in handy.
Some of these options involve adjusting the amounts of money you pay, other options require enrolling in certain programs. All of these options, though, are geared towards helping you pay less money to a lender.
Here they are: