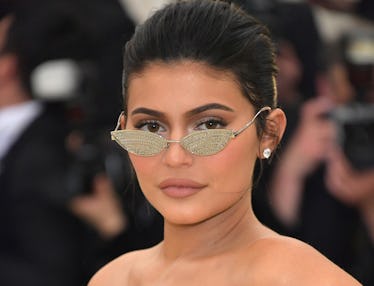 These New Photos Of Kylie Jenner On Instagram Show How Happy She Is As A New Mom
Neilson Barnard/Getty Images
Kylie Jenner is feelin' herself right now. The new mom just posted a bunch of solo photos to her Instagram and they're obviously all stunning. The new photos of Kylie Jenner on Instagram show Stormi's mama strolling around outside what appears to be a luxurious trailer. If you've had a hankering for Instagrams from Kylie Jenner like the ones she used to post non-stop pre-Stormi, these are the answers to your prayers.
The makeup mogul went on a posting spree, posting to the app six times in a row with a total of eight photos. She's in a long, flowy, leopard-print dress in half of the photos and a striped crop top and shorts in the remaining. I'd ask where homegirl got all of her makeup she used for her looks in the photos, but we all already know (the perks of having your own makeup line). Her captions for the photos show how happy and straight-up blissful she is with life right now. She made that plain and clear with one caption that simply reads, "happiness ✨." The others say "MORNING," "I never post black and white photos..." and naturally, a plug for Kylie Cosmetics lip kits, "Koko Matte Lip ✨ @kyliecosmetics."
Homegirl is feelin' herself.
Honestly, ya can't blame her.
Jenner is having one hell of a year.
Of course, it's not a true Kylie Jenner Instagram post if Kylie Cosmetics isn't plugged.
After a bit of ~light stalking~, it looks like the blinds behind Jenner in the above photo are the same as the ones seen in the background of this photo Kardashian posted on April 20.
Just call me Nancy Drew. (Just kidding. Please don't.)
Jenner's social media is the polar opposite of what it was during her pregnancy. When she confirmed on Feb. 4 that she had given birth to Stormi on Feb. 1, she apologized to her fans for going off the grid. She said,
I'm sorry for keeping you in the dark through all the assumptions. I understand you're used to me bringing you along on all my journeys. my pregnancy was one I chose not to do in front of the world. I knew for myself i needed to prepare for this role of a lifetime in the most positive, stress free, and healthy way i knew how.
She continued,
Pregnancy has been the most beautiful, empowering, and life changing experience I've had in my entire life and I'm actually going to miss it. I appreciate my friends and especially my family for helping me make this special moment as private as we could. my beautiful and healthy baby girl arrived February 1st and i just couldn't wait to share this blessing. I've never felt love and happiness like this i could burst! Thank you for understanding.
Jenner has posted lots of photos of Stormi throughout the last four months. Kim Kardashian also revealed that she, Jenner, and Khloé Kardashian are planning a joint photo shoot for their daughters because they were all born so close together. Chicago West was born Jan. 15, 2018, Stormi Webster was born Feb. 1, 2018, and True Thompson was born April 12, 2018. The three sisters are so excited that their daughters, although cousins, will also grow up feeling just like sisters.
Kardashian said,
We're so excited. Me and Kylie [Jenner] and Khloé are planning one of those kids' photo shoots, just like a silly shot that we can have all the girls, 'cause Stormi and Chicago have so many pictures together. So, we can't wait for True to join the crew.
*Turns on Instagram post notifications for Kim Kardashian, Kylie Jenner, and Khloé Kardashian.*