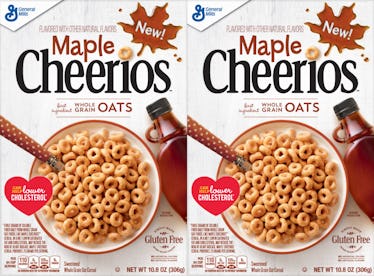 Forget PSLs, Because You Can Now Buy Maple-Flavored Cheerios For A Festive Breakfast
GENERAL MILLS
Is it just me, or is the PSL mania starting to get a little, well, old? Considering that Starbucks' official herald of fall arrived in stores earlier than ever in August and the populace has since been subjected to pumpkin spice-everything, I've started turning towards other festive flavors to continue living my best fall life. That being said, I was so excited to see that new Maple-Flavored Cheerios are now available nationwide, because who wouldn't want to sample this autumn-approved breakfast of champions?
According to Instagram bloggers who've shared the announcement on their accounts, General Mills' new addition first launched in Kroger stores on Aug. 24 and a Cheerios rep confirmed via a press release that the maple-infused cereal will be available nationwide starting in October 2018. Intrigued, I headed to the Cheerios' website, where the offering is described as "no artificial flavors or colors from artificial sources, gluten-free Maple Cheerios is a bowl of goodness families can enjoy and parents can feel good about putting on the breakfast table." The ingredients listed include whole grain oats, maple syrup, sugar, and brown sugar syrup, a combination which reportedly elicits a subtle yet noticeable maple syrup flavor.
While customers seem to be enjoying the new flavor, the general consensus seems to be that you'll love Maple Cheerios if you prefer a less overpowering and sweet version of the maple flavoring. In a blog post, Instagram blogger Junk Banter notes, "Temper your expectations if you were expecting a huge maple flavor like I was hoping for. When you eat this cereal dry, you'll find a lot of similarities to other Cheerios varieties. Maple Cheerios most reminds me of Honey Nut Cheerios with a less poignant sweetness, and a little bit of Multi Grain Cheerios mixed in. The maple syrup is an effective sweetening agent more than it is a full-blown flavor profile."
Still, the blogger admits, "It's convincingly better than plain old regular Cheerios."
Meanwhile, Instagram user @CrumbAgainBloggerFoods also noted the similarity to the brand's popular Honey Nut Cheerios and gave the new cereal an 8 out of 10.
"Let the fall-themed foods begin!" the blogger wrote. "I found these Maple Cheerios at Kroger today and was super excited to try them. At first, I thought they tasted just like Honey Nut Cheerios, but I could taste the maple favor more as I ate them. The flavor isn't overpowering, but still reminiscent of pancake syrup. I imagine these would be good to mix in with vanilla yogurt or something. The box doesn't say limited edition, so I'm hoping these are here to stay!"
While you might traditionally associate maple flavoring with the start of sweater weather, I'm a firm believer that maple syrup is a delicacy that should be enjoyed all year long. Luckily, General Mills agrees too, and the company revealed that the new Maple Cheerios are a "new, permanent addition to the cereal family," according to the website. Plus, per the press release, they'll only set you back $3.99 for a 10.8-ounce box or $4.99 for a 19.8-ounce box, so there's no harm in trying the tasty new breakfast offering and seeing if Maple Cheerios become your cereal of choice.
Need something to wash down your festive bowl of morning cereal? Try Starbucks' new Ice Maple Pecan Latte with Cold Foam. Seriously, it's like all the flavors of fall in a cup without any of the pumpkin spice that you could likely use a break from.
Of course, Maple Cheerios are also here to give your taste buds a break from PSL mania. Whether you choose to pour your Maple Cheerios in a bowl or eat them right from the box, they're sure to hit the spot. Happy munching!