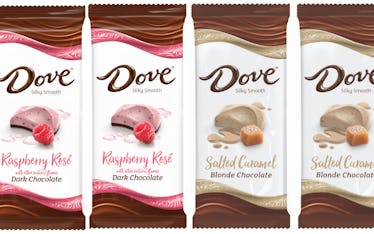 Dove Chocolate's New Raspberry Rosé & Salted Caramel Candy Bars Sound So Yummy
Courtesy of Dove
Christmas is coming early for fans of Dove Chocolate. The confectionary company is releasing six new flavors this December including two of my personal favorites: Raspberry Rosé Dark Chocolate and Salted Caramel Blonde Chocolate. My mouth is already watering, and I'm going to take a gamble that yours is, too. That's why these new Dove Chocolate Bar flavors for December 2018 will leave you wanting another bite. Allow me to fill you in on the details.
On Tuesday, Nov. 27, Dove announced the release of six new flavors of chocolate bars. The unique flavor combinations are "inspired by the latest culinary trends," per a press release from the company. The brand new chocolate tastes include:
Bourbon Vanilla Dark Chocolate
Salted Caramel Blonde Chocolate
Raspberry Rosé Dark Chocolate
Almond Brittle Milk Chocolate
"Our chocolate-loving consumers are always looking to up the ante with their treats," Leslie Philipsen, Brand Director, Dove Chocolate, said in a press release. "We challenged ourselves to bring creative, culinary-inspired flavors like salted caramel and bourbon vanilla and pair them with our signature silky smooth chocolate. We want this new Dove taste experience to give our fans a whole new reason to fall in love with chocolate."
I want to talk about that Raspberry Rosé flavor though, because I'm missing my usual glass of the pink stuff due to the cold weather. I know I can still drink it, but, to me, rosé is a warm weather drink. I'm intrigued to see it in candy bar form and coming out in December. According to Dove, the Raspberry Rosé Dark Chocolate bar has a "sweet pink layer with raspberry and rosé over silky smooth Dove chocolate." I haven't even tried the candy bar yet and I already know that it's going to derail my diet. Chocolate and raspberry compliment each other like peanut butter and jelly. The addition of rosé is a surprise bonus and I can't wait to take a bite.
I'm not ranking these flavors in any particular order, but the Salted Caramel Blonde Chocolate is also at the top of my list. I love anything that mixes sweet and salty flavors. According to Dove, the Salted Caramel Blonde Chocolate bar is a mixture of white chocolate and milk chocolate. Swirls of sweet caramel are added in throughout the bar and it's topped with flaky sweet salt. Thanks to the sweetness of the chocolate and the salt, this candy bar gives you the best of both worlds. Dove is known for their silky smooth chocolates, so you can't go wrong with whichever flavor you decide upon.
If flavored chocolate isn't your thing, you can always go for the regular Dove Dark Chocolate bar or the Milk Chocolate Dove bar. I love a good flavored chocolate, but not much else can match the smooth and creamy tastes of plain dark chocolate and milk chocolate.
The candy bars are 3.3 ounces in size and will be sold for $1.99 a piece at in the candy aisles of grocery stores and drugstores nationwide. For the size and the price, these new Dove Chocolate bar flavors make a great stocking stuffer, IMO. The compact size also makes them an ideal snack to keep in your purse when you are craving a bite of sweet.