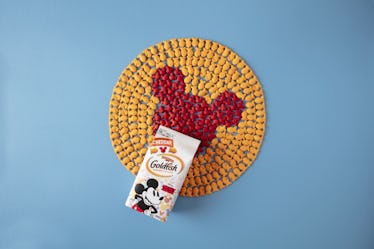 These Goldfish That Are Shaped Like Mickey Mouse Ears Are Almost Too Cute To Eat
Pepperidge Farm
Do you know what would add some real Disney magic to my pantry? Mickey Mouse. I bet if Mickey was in my kitchen at this very moment, there would be glitter spewing from my fridge and churros lining my cabinets. Of course, Mickey himself can't actually come to my house — but Mickey Mouse Goldfish Crackers are the next best thing. TBH, these Mickey-themed Goldfish snacks are almost too cute to eat, because they are literally shaped like Mickey's ears. Not to mention, they're red — just like his famous trousers. If I could get my hands on a few bags of 'em, my kitchen would be magical AF.
Luckily, it's super easy to buy a bag. According to a press release, the Mickey-themed snack can be purchased exclusively at Target stores nationwide from Oct. 1, 2018, to Oct. 1, 2019. That means you have an entire year to partake in the magic. Target is selling these Mickey ear-shaped treats in honor of Mickey Mouse's 90th birthday in November — and it's definitely a celebration worth partaking in. FYI, the store is also selling birthday cake-flavored Mickey Mouse Oreos to celebrate his big day. Those, however, aren't only exclusive to Target.
This isn't about Oreos, though; this is about Mickey Mouse Goldfish Crackers (aka the cutest lil crackers you'll ever see).
Pepperidge Farms' Mickey Mouse Goldfish Cracker bag consists of the fish-shaped pieces that you're used to — but it also includes red Mickey ear-shaped crackers. Knowing me, I'd probably sift through the entire package and pick out the red pieces. (How can you blame me, though? They're so cute!)
By the looks of it, the Mickey Mouse Goldfish Crackers are cheddar-flavored, which is totally OK with me. However, I'd love to see pink Minnie ear pieces in the future that taste like cotton candy. I mean, what's Mickey without Minnie, anyway?
Of course, I am not the decider of Goldfish flavors — so I'll leave that up to Pepperidge Farm. In the meantime, I'll gladly order a few bags of the Mickey Mouse Goldfish Crackers and partake in Mickey's birthday celebration. Again, if you want to honor the mouse's ninth decade alive, grab a bag of these Goldfish Crackers from Target. I have a feeling you won't be disappointed.
If you like sweet snacks better than salty ones, then maybe I should swing back to the Mickey Mouse Oreos. These birthday cake-flavored cookies hit the shelves of grocery stores on Monday, Sept. 24 — so go ahead and purchase a pack. If you do, you'll soon realize that they're just as cute as Mickey Mouse Goldfish Crackers. However, instead of being ear-shaped, the Oreo cookies are decorated with birthday designs. The design that's featured on the main package shows Mickey Mouse wearing a party hat, which is certainly fitting for the occasion.
Whether you go for a bag of Mickey Mouse Goldfish Crackers or a package of Mickey Mouse Oreos, I'm sure your birthday celebration will be delicious. If you get both, though, your pantry will be full of pure Disney magic.