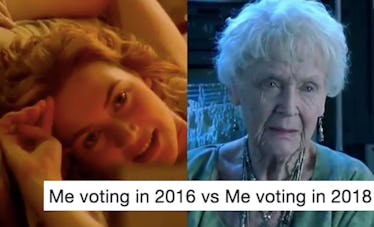 These Memes About Voting In The 2018 Midterms Are Way Too Relatable
20th Century Fox/Twitter
It's finally Nov. 6, which means it's time to get out and vote in the midterm elections (!!!). If you're currently scanning social media, you'll probably see tons of "I voted" selfies and posts that are encouraging others to go out and have their voices heard. You'll probably also see a ton of memes about voting in the 2018 midterms — and, let me tell you, they're way too relatable. As soon as you browse through Twitter and start discovering the memes that voters have created about Election Day 2018, you'll feel more connected to the internet than ever.
While there are obviously tons of memes that users have created about voting in the midterm elections, one stands out from the rest. It's called the "me voting in 2016 versus me voting in 2018" meme, and it's helping people of the internet express how serious the are about the midterms. The viral meme uses back-to-back photos to compare how people felt during the 2016 presidential election to how they're currently feeling at the polls — and they'll make you feel super hopeful. Based off the memes alone, it looks like people mean business this time around.
Most folks are using screenshots from movies and TV shows to help express how dedicated they are to having their voices heard during the midterms. Let's just say they aren't messing around.
In fact, they're ready to make some noise.
Others are pretty run down from the past two years — but that won't stop them from getting out and making a difference.
Let's do this, y'all.
As you can see, the memes keep rolling in. Thankfully, they're super easy to make. If you're feeling passionate about voting in the midterms (which, you should), go ahead and make your own comparison. All you have to do is screenshot your 2016 and 2018 election "moods." Then, post 'em on Twitter with the caption, "me voting in 2018 verses me voting in 2018." Who knows, your tweet might inspire someone to get out there and make their voice heard.
If you need some inspiration, check out the viral election memes with a quick Twitter search. After scrolling through them, you might realize a pattern. Most of the first photos that people are relating to 2016 are happy-go-lucky and carefree. The reason behind this might be different for everyone — but I'm going to guess it's because not a lot of people went into the booths thinking Donald Trump was actually going to win the presidential race. Therefore, a lot of people are dedicated to making a change this time around, resulting in more rugged and serious photos to match their 2018 midterm election moods. Kudos, Twitter — you've got this.
After you've scrolled through the comparative memes, check out all of the tweets about voting. It's apparent that a majority of the internet is going visit the polls on Nov. 6 — and now's your chance to join them.