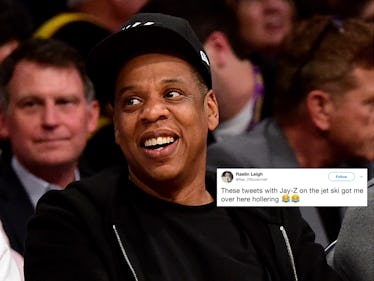 JAY-Z Riding A Jet Ski With A Helmet Is The Meme Of The Summer & I Can't Stop Laughing
Harry How/Getty Images Sport/Getty Image
Is there anything better than a good meme? On Wednesday, July 4, the internet took a collective break from grilling and setting off fireworks to roast JAY-Z, and it was beyond hilarious. Apparently, when you mix a ridiculous picture of a rapper, water sports, and Twitter users who have been drinking all day, you get some fire memes about JAY-Z riding a jet ski, and I'm so about it.
While JAY-Z and Beyoncé did celebrate the Fourth of July on the water, the photo of JAY-Z on a jet ski that surfaced on Twitter is actually an oldie (but a goodie). In the pic from August 2016, the rapper rides a jet ski and wears a life jacket, rash guard, sunglasses, and a very bright red helmet — as in, fire engine red — and looks anything but relaxed. There's really no reason why JAY-Z should look so serious, especially considering that he was apparently on vacation in Italy with his wife and daughter at the time, so naturally, Twitter users jumped at the chance to make fun of him. And boy, did they succeed.
Honestly, the jokes about JAY-Z on a jet ski really write themselves. Just look at that helmet! It seems a little over-cautious — does he think he's somehow going to injure his head on the water? And that face! I don't know why, but whenever I look at that picture, The Joker's "Why so serious?" and Trey Songz's "Mr. Steal Your Girl" (side note: "Bottoms Up" is an under-appreciated song) alternately play in my head.
The memes about JAY-Z riding a jet ski became so popular over the holiday that Twitter even collected them into a Moment. And I'm so grateful for it, because these amazing memes are giving me life right now.
JAY-Z has yet to comment publicly on the jet ski meme, but if you're waiting for him to join in on the fun, I wouldn't hold your breath. The rapper hasn't used his Twitter account since June 2017 (I wish I could say the same), and even though he and Bey appear to be on vacation this week, they're more than a little busy right now. The superstar couple are currently on their On The Run II tour in Europe — the U.S. leg of the tour begins on July 25 in Cleveland, Ohio — and they just released a surprise new album, Everything Is Love.
Oh, and they're also raising 12-month-old twins, Rumi and Sir, and 6-year-old Blue Ivy. Apart from riding a jet ski like a normal person, is there anything JAY-Z and Beyoncé can't do?
As much as I love the JAY-Z riding a jet ski meme — is it too early to declare it the meme of the summer? — I have a very important question: Has the rapper been doing any water sports this summer? The original jet ski photo is from 2016, so it seems like it's about time for fans to get a new pic of JAY-Z doing something weird (because let's face it: He's way too famous to be a regular person).
Maybe he jumped on one of those inflatable water trampolines in the French Riviera? (Quick aside: Do they even have those in the French Riviera, or is that just an American thing?) Or maybe he rode a banana boat with Blue Ivy? I mean, if Kim Kardashian is willing to document herself trying — and failing — to wakeboard for the first time, we can convince JAY-Z to go white water rafting, right?
JAY-Z, the fans need this. America needs this. Only you and your kayak can save us now.