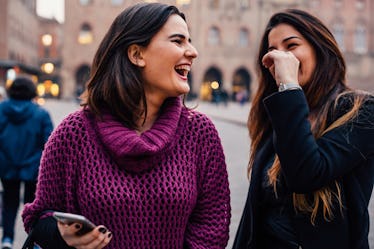 11 Memes That Perfectly Capture The Difference Between You In 2016 & You In 2017
When you think about it, it's totally fitting that millennials would resort to internet memes as a means of describing how they've evolved from 2016 to now. Let's face it, 2017 was a joke, and even though I would never describe the obstacles we've overcome as particularly funny, what better way to shed some light on an otherwise dark year than with some "me in 2016 vs me in 2017" memes that fully capture the ridiculousness of the past 12 months? Think of it this way: Somehow, you miraculously endured this mess unscathed (for the most part); you could probably use a laugh.
Sometimes when I get upset, I'll make light of the situation by cracking jokes. This is one of the most tried and trusted coping mechanisms that works for me. I do this because, if I don't laugh, I'll cry, and sometimes you just get tired of crying. Having said that, memes are an excellent way to take a crummy situation and make it a little funny.
I'd imagine I'm not the only person who is both exhausted by and tremendously disappointed with the current state of the world we live in today. Every other news segment or headline reports bad news, another sexual assault accusation, political scandals, or mean, pointless tweets coming from the head of the Oval Office. As far as I can tell, things seem pretty disastrous right about now, but a new year is almost upon us, and the best we can do is smile and endure it with a laugh or two.