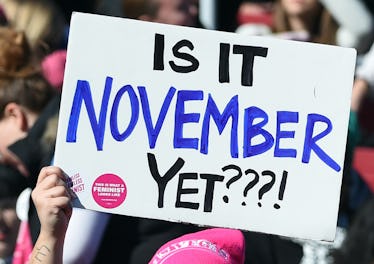 These Powerful Signs From The March To The Polls Will Inspire You For The Midterms
Ethan Miller/Getty Images News/Getty Images
With mere weeks until the 2018 midterm elections on Nov. 6, where the future of multiple hot-button issues could be determined, many activists took to the streets of Chicago and parts of Massachusetts on Saturday, Oct. 13 to celebrate first-time voters and inspire voter turnout. While it's hard to predict what the outcome of the races on election day will be, one might find comfort in all of the amazing signs that appeared at the event. If you need a little pick-me-up or motivation ahead of the midterms, look no further than these badass March to the Polls 2018 signs.
With increasing threats to the future of women's rights, particularly, like abortion and birth control access, organizers called on women and allies to take to the streets, bring their signs, and get involved with early voting.In an Oct. 6 press release, March On The Polls announced a "series of marches" in "major cities across the country to channel anger and outrage at Kavanaugh's confirmation into electoral change." While I'm so here for exercising your civic duty, some of the signs regarding concerns and issues affecting women are absolute gold.
Many people made signs calling out newly placed Supreme Court justice Brett Kavanaugh, who was controversially confirmed for a seat on the bench on Oct. 6, after a tumultuous confirmation process encased in sexual assault allegations by three women. Kavanaugh has vehemently and repeatedly denied the allegations, saying in a statement to CNBC, "This is a completely false allegation. I have never done anything like what the accuser describes—to her or anyone." Elite Daily reached out to his representatives for further comment at the time, but did not hear back by the time of publication.
The Chicago event on Saturday was filled with plenty of people sending their messages via homemade signs.
Bringing some levity to the mood, one woman's sign called out the judge with a totally fetch quote from Mean Girls, and it read,
THIS MAN IS THE NASTIEST SKANK BITCH I'VE EVER MET. DO NOT TRUST HIM. HE IS A FUGLY SLUT.
The sign was hilariously modeled after Regina George's entry in The Burn Book about Cady Heron, and after a photo of Brett Kavanaugh, it concluded with,
BRETT KAVANAUGH
One simple yet poignant sign read, "Believe women."
A Trump baby balloon was spotted amongst the signs.
According to the Women's March Chicago's website, the events included special guest speakers, live musical performances, and more, before ending with a march throughout the streets of downtown Chicago, where voters can literally "march to the polls" and cast in their ballots.
"Women have said no, we will not stand for this," Vanessa Wruble, executive director of March On, the coalition of groups that have organized the Women's Marches nationwide, said in the press release of the purpose behind the rally. "Our country will not stand for elected leadership that blatantly disregards credible accusations of sexual assault against a Supreme Court nominee."
If you're not in Chicago or Massachusetts, don't fret — there could be a march to the polls in your area soon. According to the release for the event, Atlanta, Georgia; Houston, Texas; and Little Rock, Arkansas; and a few other cities are slated to host marches on Oct. 27. Others are being held on Nov. 6. To see if there's a march planned for your area, check out this page. If you don't see anything for your city, note that organizers have said that additional marches are being planned.
Otherwise, the midterm elections are on Nov. 6. Even if you aren't able to get to one of these events and let your sign fly high, the most important thing is that you show up and let your voice be heard where it counts most: at the polls. See you then!