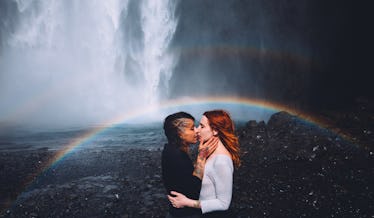 These 3 Same-Sex Proposal Stories Are So Beautiful, You Might Need Tissues
I, like all humans with a heart, love a good proposal story. In addition to weeping over strangers' wedding videos and stalking wedding photographers' Insta feeds, I'll often scour the internet in search of gorgeous engagement stories. And these lesbian couple proposals are among the loveliest I've ever heard or read.
(BTW, have you seen that video of two women proposing to each other at the same time? It's perfect in every way.)
When it comes to same-sex proposals, though, there seem to be a lot of misconceptions. A quick Reddit search turns up multiple threads asking if the partner who plays "the man" in a relationship typically pops the question. Which, as the gentlemen of Queer Eye have explained, is a pretty problematic — and sexist — way of thinking. There's no "man" in a relationship between two women.
(Also, while we're at it, can we all just agree that waiting for guys to propose in heterosexual relationships is silly? If you want to propose, you should propose!)
That said, as an outsider to the LGBTQ+ community myself, I wasn't sure whether there was protocol around who asked when. Did most couples talk through who might propose ahead of time? Did both partners get a ring?
I spoke with a few married women (and browsed a few of those aforementioned Reddit threads) to learn more, and got to hear some gorgeous proposal stories in the process. Here's what three women had to say about how they got engaged. Fair warning: You might need the tissues for these, guys.