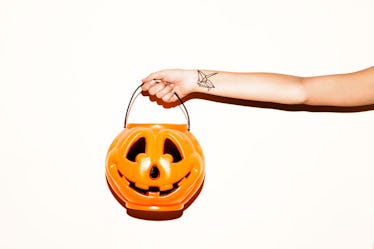 These Lazy Halloween Decorations Are Great For People Who Just Don't Feel Like It
Some people love to go all out for Halloween. I'm talking fake blood, hand-painted gravestones, eccentric cobwebs, and more. The concept of intricate decorations sounds fun and everything, but it also sounds like a lot of work. I'm sure some people would rather watch a scary movie marathon than stay up late making spooky decor. Thankfully, there are a ton of lazy Halloween decorations that those people can utilize in October. The decorations don't require any paint or sticky spider webs; only a quick trip to the dollar store (and maybe some tape).
Heck, if you use Amazon to order your Halloween decorations, you won't even have to leave your couch. That sounds like a great idea to me, because searching through a party store weeks before Oct. 31 is a truly scary experience (hello, crowds). Thankfully, there are tons of Halloween decorations online that you won't need to paint or piece together. They'll come straight to your doorstep, and you can place them wherever you'd like. Whether you want to put a cute lil' plastic pumpkin on your patio or draw a spooky face on an orange balloon, you're basically covered. Who said decorating for Halloween had to be hard, anyway?