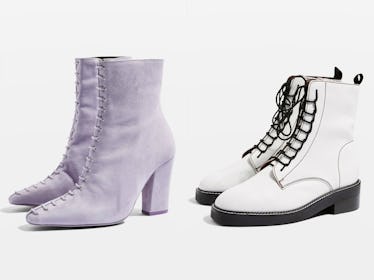 11 Pairs Of Lace-Up Boots For Fall That You'll Want To Get All Tied Up In
Topshop
When it comes to fall footwear that can range from counterculture cool to super sexy, women's lace-up boots reign supreme. Chunky treaded Dr. Martens, pointy toed stilettos, fashion-forward hiking boots, and Western-inspired styles all come in lace-up form and they're only the tip of the iceberg. While slip-ons may seem more practical sheerly because of the time it takes to get them on, they never boast that cool, edgy je ne sais quois that their stringier cousins do. I'm making the case for setting your Chelsea boots and Hunter wellies aside this fall and taking the time to lace up in the name of style.
Below, you'll find 11 pairs of lace-up boots in an array of heel heights, shades, finishes, patterns, hardwares, you name it. Whether you're getting dressed up for a date or a Broadway show or are simply trying to walk through a massive snowstorm that's just hit, there'll be one that will satisfy your footwear needs. Swap out the laces they come with to add your own personal touch if you want or simply rely on them as they are to make your entire outfit. Because they're all cool enough that they actually can.
Lace up!
Sweet As Candy
They're purple, pointy, and lace all the way down to the toes. Oh, and they come in a super soft suede. These plus a long white pea coat and pastel floral dress? Killer.
It Brit
The exposed stitching and chinky sole render these something you'd expect to see on High Street. Grab some plaid to pair them with.
Pink Streak
Hiking boots are one of fall's biggest footwear trends and while most that are being offered by major retailers probably wouldn't last one second on a mountain, these seem like they could thanks to their treads. And they'd look cool AF while doing it.
Slither On In
Animal print everything is also huge this season so why not wear it in snakeskin-inspired form? These boots boast a cool pattern in a range of deep autumnal shades but they're still neutral enough to go with everything.
Back It Up
I said they'd all be lace-ups but I didn't specify where! This minimal style is a cool take on the sock boot trend with pointy toes and back laces added in.
White Hot
Punky and chunky in all the right ways.
Cloud Nine
These soft powder blue booties are what boho cool dreams are made of.
Velvet Underfoot
If you're someone who can walk without hesitation in sky high stilettos then these boots are your cold weather variation.
Silver Linings
The silver detailing on these boots is subtle enough that they don't feel overly rocker-y but still visible enough to give them a metallic kick. They're the perfect everyday boots.
Crème De La Crème
For all you retro lovers. They'd pair great with vintage dresses of all kinds.
Happy Feet
Classic Timberlands will always be cool but why not amp them up a notch by getting a pair in fully saturated form? Thanks to their treads these are perfect for inclement weather and will brighten up any day, no mater how gray or snowy.