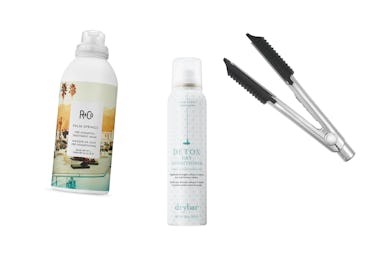 These Labor Day Hair Product Sales Will Soothe Your End-Of-Summer Hair Like No Other
R+Co // Drybar // Beachwaver
If there's anything that can soften the blow of summer ending, it's the annual Labor Day weekend sales likely taking over your email inboxes. And while the discounts on mattresses, back-to-school supplies, electronics, clothes, and shoes are cool and all, the real gold mine is found in all of the Labor Day weekend beauty sales that go on, specifically the sales on hair products. Because what better way to nurse your dry, damaged, post-summer hair back to health than by treating your mane to your favorite hair masks, styling products, and tools at major discounts.
So whether you're looking for a mask to reverse the effects that those harmful UV rays had on your hair after those long days at the pool, or you just want to treat yourself to a new curling iron in time for the new school year (or, you know, just because) read on to check out the best Labor Day 2018 hair product sales.
Wave Summer Goodbye
Starting on Wednesday, Aug. 29, through Saturday, Sep. 1, the hot tool brand behind the infamous Victoria's Secret Angel waves will be offering a slew of hourly sales, including 50 percent off the brand's styling Wrap Ups & Half Ups using code "BUNS," their Make Waves hot pink robe for $10 using code "ROBE," their S1 Kit at 35 percent off original retail price, and finally, $10 off their Coast Pro Ceramic ​using code "COASTPRO."
Detox For The Weekend
If you've ever had your hair styled at Drybar, then odds are, you've seen (and obsessed over) their bright yellow hot tools and line of (amazing smelling) styling products, not to mention how dope your hair probably looked after.
Well, luckily for you and your locks, the blow out connoisseurs aren't just having a Labor Day weekend sale, but an "early September online sale." From Aug. 27 through Sep. 21, you'll be able to receive 50 percent off of some of the brand's best-sellers, exclusively on their website. Their Detox Dry Conditioner Regular and Detox Dry Conditioner Lush will both be on sale for $11.50 for regular size and $6.50 for minis, while their Fully Loaded Kit (which includes Buttercup Blow-Dryer, two Hold Me Hair Clips, Lil' Lemon Drop Daily Detangler Brush, Mini On the Rocks Shampoo, Mini On the Rocks Conditioner, Mini Prep Rally Prime & Prep Detangler, Mini Sparkling Soda Shine Mist, Mini Triple Sec 3-in-1, and Mini Detox Dry Shampoo in Original Scent) will be on sale for $129.35, compared to its regular retail price of $199.
Don't Slip Up
If you're not already aware of the amazing benefits that silk pillowcases and hair ties provide for your hair, you need to get hip fast. And what better time to purchase one of the best in the bizz, the anti-breakage silk pillowcases from Slip Silk Pillowcase, than with Dermstore's Labor Day weekend sale. As the website is offering 20 percent off all products using code "LABORDAY" through Sep. 6, you can grab a three-pack of the brand's scrunchies for just $31, and their pillowcases for $68.
As another part of Dermstore's Labor Day weekend sale, you can cop R+Co's Palm Springs Pre-Shampoo Treatment Mask (along with all of the brand's other products) at 20 percent off as well. This hair mask from R+Co softens dry, damaged hair before you wash it, so it's perfect for treating post-summer hair or detangling that third day, frizzy mane that is chock-full of dry shampoo and hairspray.