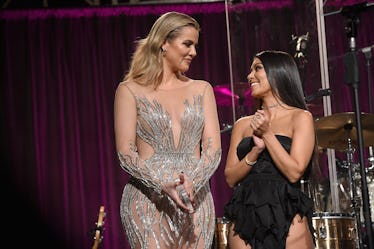 Khloé Kardashian Is Definitely Trolling Fans With "Clues" About Her Baby's Gender – UPDATE
Jamie McCarthy/Getty Images Entertainment/Getty Images
Unlike a surprising number of women my age, I'm really not too excited by babies, in any way, shape, or form. The idea of actually looking after one is far beyond my mental capacity, and TBH, I'd much rather take care of a puppy... #SorryNotSorry. But, when it comes to any of the beloved Kardashian babies, I'm embarrassed to say that I am wholeheartedly —religiously, in fact — up-to-date and here for any and all baby or maternity news. And if you haven't already caught a glimpse of these Khloe Kardashian's Instagram "clues" about her baby's gender, they're seriously killing me right now.
UPDATE: On the Season 14 finale of Keeping Up With The Kardashians, which aired on March 4, Khloé Kardashian confirmed she's expecting a baby girl with boyfriend Tristan Thompson.
EARLIER: Kardashian fans are still completely in the dark in terms of the gender of Khloé's baby. For the last few weeks, I've basically been ignoring all of my friends, just waiting on edge of my damn seat to find out more information about Khloé K's baby. It's pretty obvious, however, that Khloé is 100 percent aware of her fans (er... my) relentless anticipation, because on her Instagram, she's exclusively been wearing totally pink or all-blue outfits this week. Coincidence? I THINK NOT.
On Friday, March 2, Khloé posted a photo of herself in an all-blue outfit (down to the shoes!) in Kyoto, Japan. She captioned the Instagram with two blue emoji hearts and Japanese characters that say "thankful," according to People. The blue had everyone in the comments shouting that she would be having a boy. Then, later on Friday (which would've been Saturday in Japan), Khloé tripped everyone up by wearing an all-pink ensemble, which she posted to Instagram. She captioned that picture "Kyoto Khlo" with two pink heart emojis. "8 Month Bump," she added. Come on, Khloé, this kind of trolling is just rude when fans only want to know the gender of your baby!!! Please!!!!
Khloé's seemingly purposeful ambiguity leaves me asking so many questions. Is it a boy? Or a girl? Is it twins? Good God, nobody (except for the Kardashian-Jenners) knows the answer, and it's tearing me apart. As for Khloé? Oh, you know, she's been relaxing, and really just livin' la vida pregnant, on a casual vacation to Japan alongside Kim and Kourtney, according to People. But she, of course, knows the gender of the baby. And, her "festive" outfit choices are clearly an ode to the fact that she's just trying to lead us on, in subtle-but-classic Kardashian fashion. We get it, Khloé, you're not gonna tell us the gender. Just quit playing games with my heart, that's really all I'm asking for right now.
The latest teaser for the upcoming Keeping With the Kardashians episode, however, which airs on Sunday, March 4, insinuates that Khloé will actually be revealing the sex of her baby, per Cosmopolitan. You can't really figure out anything from the actual teaser, but you see her sisters' reactions to the gender of the baby, and they are totally priceless. Except I'll probably be like, ten times more excited. So if you couldn't already tell, fans, (myself included), are incredibly desperate to know the sex of KhloéTravis Scott Posted A Pic Of Stormi's Face & She's So Freaking Adorable's baby, and her mind games on Instagram really aren't putting our minds at ease, in any way at all, whatsoever. Thanks for that, Khlo, I appreciate it. These mind games aren't totally sabotaging my social life, or anything.
Also, based on clips for the upcoming episode of KUWTK, Kylie and Khloé are filmed showing off their baby bumps together, and it's so magical. Khloé is seen talking to a woman about how she and Kylie's due dates are only three months apart. Khloé continues to say that both of them are super excited to go through pregnancy for the first time, together at the same time. It's really stinking cute, and if you haven't already watched it, it'll totally make you want to hug your sister (if you have one). If you're interested to cry a little, you should definitely check out clip below. It's so heartwarming, I feel like my icy soul has finally thawed.
Whether you have a major soft spot for babies, or if they aren't up your alley, there's no way that the sheer uncertainty of Khloé's baby gender isn't ripping your heart out. Her gender color-coded outfit choices are obviously no coincidence, and I've done about as much sleuthing as I can do to figure it out... guess we'll just have to wait for the next KUWTK episode.