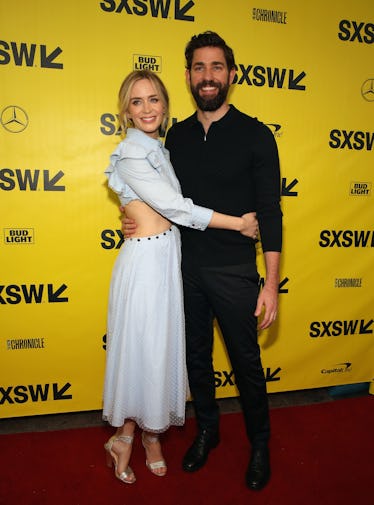 4 Annoyingly Cute Things John Krasinski Has Said About Emily Blunt That'll Warm Your Heart
Rick Kern/Getty Images Entertainment/Getty Images
We've been having a rough go of things recently when it comes to celebrity relationships. Jennifer and Justin. Channing and Jenna. Chris and Anna (no, I'm still very much not over them, OK?). Our hearts break every time another beloved couple decides to separate, because it's as if once we truly connect with them, they break up and our own hearts are ripped out of our chests. But you guys, we should really be thankful for all of the Hollywood couples out there who are still going strong. Case in point: John Krasinski and Emily Blunt. These two love birds started in dating in 2008 (and got married in 2010), meaning they've got a decade of being together under their belts already. And not only do they look so in love, they make sure the world knows it by saying the sweetest things about each other. And I promise that these John Krasinski quotes about Emily Blunt will have you believing in love once more.
Look, I know that it's tough to move on from your favorite celebrity couple, but give John and Emily a chance, because these two are the real deal. They respect the hell out of each other, they're both beyond supportive, and they have the most adorable little family. So just give them a shot for me, OK? OK.
1. When John Krasinski said that Emily Blunt had acting "superpowers":
It really doesn't get any cuter than hearing that John Krasinski is at a total loss when he watches his wife acting. In an interview with Vanity Fair, he talked about how watching her act in person while filming A Quiet Place was such a departure from simply watching her on-screen. He said,
The air changes in the room when she starts doing what she does. It's so honest and so pure and so powerful. It's like a superpower that she can just unlock and do so specifically with not many attempts. For me, I love acting, and I'm so lucky to be doing it. But she's on another plane. This weird intersection happened while filming where I totally forgot I was her husband. I was just watching her performance and was lucky enough to be in the front row.
TBH, I think it's John Krasinski with the superpower. The power of getting every woman in the world to want to date him.
2. When he said that Emily Blunt was "out of his league":
It's sort of obvious that Emily Blunt is incredibly gorgeous. I mean, just look at her! (Also, her accent is sexy as hell, just throwing that out there.) And, while John Krasinski is smokin' in my opinion, he talked about how the best day of his life was when he first met Emily Blunt. In an interview with The Daily Beast, Krasinski said he's never been the "coolest kid on the block," and meeting her was a total game-changer.
Aaaand cue the tears... now.
He said,
I was never the coolest kid on the block, so I never had the 'good ol' days' of a playboy type of lifestyle … So for me, the best days of my life started when I met my wife—that's the truth, it's not just me saying it because it sounds nice on a card. She's one of the coolest people, she's so talented, she's beautiful, and she's certainly out of my league. And so all of a sudden all of the things I loved, I got to find someone who loved that about me. There was a lot of my life that she hadn't experienced and a lot of her life that I hadn't experienced, so all of a sudden we got to start doing things that we liked.
HOW IS HE A REAL PERSON? Surely there must be a robot telling him the perfect words to say?
LOL, nope, he's just that nice of a human being, and loves his wife that much.
3. When he revealed the moment he knew that he wanted to marry Emily Blunt.
When talking to Entertainment Tonight, Krasinski decided to tug at everyone's heartstrings yet again and fill us in on the moment he knew that he wanted to wife up Emily Blunt (smart move, my friend). He said,
I mean, I don't know who meets Emily Blunt and doesn't hope that you get to become her husband. So, that was pretty immediate for me ... It's a big commitment and it's hard to look at these different people through that lens, because it's an intense lens to put anybody under. But Emily, through any lens, is someone that you just pinch yourself that you even get to be around her, let alone married to her.
It's almost as if I can't keep reading more sweet things, otherwise my heart is going to explode and I will melt into a puddle of happiness at any moment.
But here I go again, because I can't stop myself!
4. When he gushed about how amazing of a parent she is to their daughters.
For reasons I cannot understand, husbands who talk about how amazing a mom their wives are just gets me so weepy. And guess what? John Krasinski is no exception, because he told the Today Show that Emily Blunt is an amazing mother to their daughters Violet and Hazel. In addition to calling her "the best mom in the world," he said,
I wake up every morning with a smile on my face, waiting for the next amazing moment that she'll have with the kids ... I'm living a lottery ticket life. My wife is my hero in every single way. Truly, every single day I'm blown away by her, so I'm always looking to her for inspiration.
I'm not crying, you're crying. OK, you know what, I actually am crying. Damn you, John Krasinski.
So by now, I think you get the memo. John Krasinski and Emily Blunt are the ultimate #couplegoals, and we should all just soak in their love for each other.
Bravo, you two. Bravo for being two phenomenal human beings, and bravo for loving each other so publicly and proudly.
Sincerely, your biggest fan.