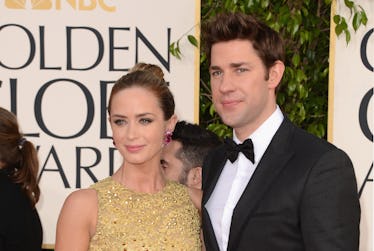 The Story Of How Emily Blunt & John Krasinski Met Is So, So Relatable
Jason Merritt/Getty Images Entertainment/Getty Images
Who doesn't love a power couple that's also incredibly cute and totally relatable? Well, that right there describes Emily Blunt and John Krasinski perfectly. Cute. Relatable. Oozes power. And they do it in such a down-to-earth way. Given that they're always so seemingly sweet, fresh-faced, and attached at the hip, it's got a lot of fans wondering about their origins as a couple. So, just how did Emily Blunt and John Krasinski meet? Honestly, the story is one just about everyone can relate to.
Like so many couples, the two actors reportedly met through a mutual friend who is known only as Greg. Here's how it how it went down according to Blunt, as explained to Seth Meyers:
It's, like, kind of a sad, lame story. Not sad, but it's just kind of lame. I mean, I was in a restaurant. He was in the restaurant. I was sitting with a mutual friend. This is our romantic comedy; this is it! Write it! And my friend Greg goes, 'Oh my God, there's my friend John!' And that was it.
That was it? No, no. There's got to be more, right? Of course, there is. Here's how Krasinski told the tale back in 2011 to Ellen Degeneres:
"It was one of those things where I wasn't really looking for a relationship and I was thinking I'm going to take my time in L.A.," he said. "Then I met her and I was so nervous. I was like, 'Oh god, I think I'm going to fall in love with her.' As I shook her hand I went, 'I like you.'"
Sounds like love at first sight to me. And, really, who can blame them? Both are attractive, talented, and incredibly funny, so of course they were meant to be!
Blunt and Krasinski were certain that the other was The One almost right away. The couple started in dating in 2008, got engaged in 2009, and married in 2010. So, yeah, they moved really fast because love waits for no one, especially not these two!
And if that doesn't tug at your heartstrings, then this little Blunt-Krasinski creation will:
The couple gave birth to daughter Hazel in 2014. They also have another daughter Violet, who was born in 2016.
Marriage and family aren't all these two thespians have been up to, though. Their new horror film A Quiet Place was released April 6 and it opened to rave reviews from just about everyone. Audiences have been completely entranced by the film and critics are showering it with so much praise that it's almost impossible to ignore.
Blunt and Krasinski both star in the film, with Krasinski also serving as writer, director, and executive producer. Did working together shake up their relationship at all? Not one bit, according to them. In fact, it only seemed to deepen their love and respect for each other.
"I had concerns that we might kill each other, just gently throttle the life out of each other during the process," Blunt told Vanity Fair.
Krasinski also told the magazine that seeing his wife act was "powerful":
The air changes in the room when she starts doing what she does. It's so honest and so pure and so powerful. It's like a superpower that she can just unlock and do so specifically with not many attempts. For me, I love acting, and I'm so lucky to be doing it. But she's on another plane. This weird intersection happened while filming where I totally forgot I was her husband. I was just watching her performance and was lucky enough to be in the front row.
Basically, this film was a family affair that was well worth it. And good thing, too, because Blunt and Krasinski are proving in marriage, parenthood, and filmmaking that they're a dynamic duo that's not to be underestimated.
Can't wait to see what's next for them!