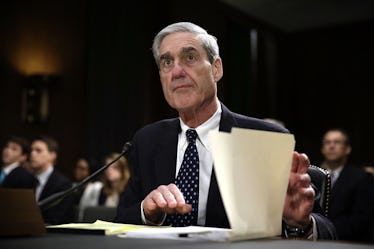 Groups Are Already Planning Massive Protests In Case Trump Fires Mueller
Alex Wong/Getty Images News/Getty Images
On Sunday, Dec. 17, when asked by reporters whether he had plans to fire special counsel Robert Mueller, President Donald Trump replied bluntly: "No, I'm not." The day before, a White House lawyer issued a statement that amounted to an even stronger denial, insisting that there's been "no consideration" of firing Mueller," the former FBI director who oversees the Department of Justice's Russia investigation. Nevertheless, a number groups are ready to protest Trump's firing of Mueller.
That is, if it actually happens.
Over 100,000 Americans have said they would participate in a combined 500 protests nationwide should Trump fire Mueller, a report from The Hill says. The groups involved in planning the potential protests include the Center for American Progress Action Fund, Stand Up America, and March for Truth, the latter of which has already held demonstrations in support of Mueller's investigation.
"With indictments being handed down, it has been reported Donald Trump is considering firing the man investigating him and his inner circle, special counsel Robert Mueller," a statement on March for Truth's website reads. "Various individuals in the President's circle have suggested the investigation should end, and in recent days GOP attacks on Mueller have reached a fever pitch. If this happens, our immediate response will determine the future of our democracy."
Why People Are Worried About Mueller Getting Fired
The concern over whether Trump will fire the special counsel, despite the White House's numerous denials to the contrary, has been sparked by a number of factors.
President Trump has long been critical of the investigation, insisting that the issue on which its based — potential ties between members of Trump's presidential campaign and Russian efforts to influence the election — is a "hoax". But the month of December, particularly, has seen an increase in criticism against Mueller among Republicans in Washington D.C.
"I think that some composition of the lawyers working on the special counsel investigation raises serious questions about the investigation's ability to be impartial," Senator Ted Cruz told CNN. "Far too many of the special counsel prosecutors have significant records contributing to Democratic politicians — and representing partisan Democratic clients. That is highly troubling."
In addition, allies of President Trump in conservative media have been even more outspoken on the issue, asserting that the Department of Justice is corrupt and in need of "cleaning," as Fox News Jeanine Pirro put it.
"There is a cleaning needed in our FBI and Department of Justice," Pirro said, during the Dec. 9 broadcast of her show. "It needs to be cleansed of individuals who should not just be fired, but who need to be taken out in cuffs!"
Meanwhile, a couple of Democrats have raised the alarm about the potential for Mueller's firing. Most notable among them is Representative Jackie Speier (D-CA), who publicly spoke about a supposed rumor within Congress that Trump would fire the special counsel before Christmas.
"The rumor on the Hill when I left yesterday was that the president was going to make a significant speech at the end of next week. And on Dec. 22, when we are out of D.C., he was going to fire Robert Mueller," the Democrat told California's KQED News. The congresswoman would later add, "we can read between the lines I think. I believe this president wants all of this shut down. He wants to shut down these investigations, and he wants to fire special counsel Mueller."
Whether or not Trump actually does fire Mueller, two things seem certain: a firing would become one of (if not the) most significant stories of his presidency and instantly spark protests nationwide from groups who are already preparing for dissent.