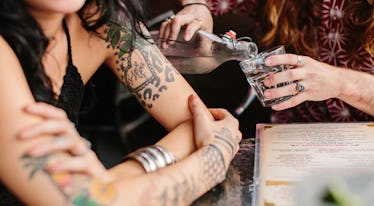 These First Date Deal-Breakers Guarantee There Won't Be A Second Date
I've gone on a lot of first dates in my life, and I don't think I've ever really had a bad one. A not-so-great one? Sure, but never one where I felt I totally wasted my time. That's not the case for the folks down below, who revealed their biggest first date deal-breakers on a recent Reddit thread full of horror stories.
First dates can be so tricky. Most of the time, you and your date are meeting for the very first time after either chatting on a dating app or being set up by a mutual friend. If you haven't really spoken much, it can be super awkward, no doubt about it. But there's a difference between a date being awkward and a date being bad. In my experience (which isn't, like, a ton, but I like to think it's enough), an awkward date can lack good conversation, resulting in weird bouts of silence and painfully non-discreet glances at your phones. Nothing bad happened, but you didn't exactly vibe, and that's OK. You're not going to vibe with everyone.
A bad date is one where you have to text your friends a safe word so they can call you to fake an "OMG I have to go my friend is super sick/just went through a breakup/needs toilet paper" excuse. A bad date is one where all they can do is talk about themselves and all you want to do is crawl into a hole and never hear their voice again! And, worst-case scenario, a bad date is one where you feel incredibly uncomfortable because your date is pressuring you to do things you're not into. Once you've been on enough of these, you tend to compile a list of the unacceptable behaviors that you, a strong, independent woman, do not need to tolerate! Because you should never have to deal with anything you don't want to.
The dates below probably helped the Redditors that experienced them compile their list of deal-breakers. Let's learn from them, shall we?