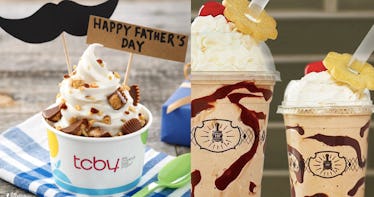 These Father's Day Deals Include Free Froyo & Milkshakes
Father's Day is just around the corner, and if you're ready to celebrate your dad, grandfather, or a father figure in your life, there's no shortage of ways to do so. Whether you want to get him a special gift, take him out to dinner, or create something special for him, these Father's Day 2019 food deals will help you celebrate dad's special day in the most perfect way.
Father's Day takes place on June 16, 2019 in the United States, but the holiday dates back over a century ago. According to The History Channel, the first Father's Day can be traced to Spokane, Washington in 1910, where a woman name Sonora Smart Dodd, who was raised by a widower, set out to establish a holiday like Mother's Day – which had been around since the mid-1800s – for dads. Dodd was successful, and Washington State celebrated its first Father's Day on June 19, 1910. It wasn't until 1972, almost 60 years after Washington's first Father's Day celebration, that President Woodrow Wilson declared it a nationwide holiday.
So if you're willing to go the extra mile to show dad how much you love him, here are eight Father's Day deals that say, "Happy Father's Day, I love you," in style.