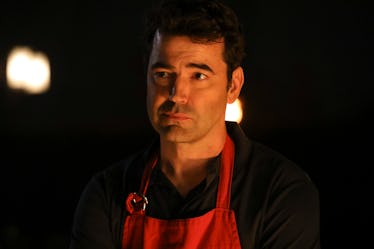 Here's Everything We Know About Barbara Morgan On 'A Million Little Things' So Far
ABC/Jack Rowand
A Million Little Things has definitely taken a note from This Is Us when it comes to handling its biggest secrets. Just as the weepy NBC drama dragged the story of Jack Pearson's death to last nearly two full seasons, ABC's A Million Little Things is staying quiet about Barbara Morgan. The Feb. 7 episode seemingly confirmed that the mysterious insurance beneficiary is pretending to be someone else, but as vague as the clue was, fans finally have a greater sense of who Barbara really is. In case you're trying to uncover her truth before the show finally comes clean with it, these facts about Barbara Morgan on A Million Little Things will hopefully bring you one step closer to solving the mystery of her role in Jon's past.
So, long story short: the recurring mentions of Barbara Morgan began when Jon's assistant Ashley (Christina Ochoa) tracked down insurance papers he meant for his wife Delilah (Stéphanie Szostak) to find following his suicide. The documents revealed the existence of a trust named "Rutledge" that listed Gary (James Roday), Rome (Romany Malco), Eddie (David Giuntoli), and the elusive Barbara Morgan as life insurance beneficiaries. When Delilah later learned that she was on the brink of being evicted due to Jon's shady finances, Katherine (Grace Park) sleuthing through his business deals led to Gary revealing that "Rutledge" was the men's shorthand term for taking care of each other's families.
Gary, Delilah, and the rest of the group are now aware that Jon (Ron Livingston) left part of this important money to a complete stranger. Despite the dead end Gary seemingly hit in his search for Barbara in Feb. 7's "Someday," the end of the episode hinted that he's actually on the right track. A Million Little Things is keeping its secrets close, but here's what we know about Barbara at this point of the wild goose chase.