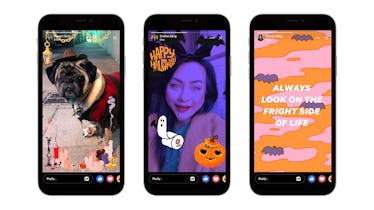 These Facebook Story Halloween Features Are A Fun Celebration Of Spooky Season
Facebook
Like most people, I get a total kick out of celebrating Halloween. I love decorating my apartment, dressing up, handing out candy, and, of course, decking out any and all of my social media pages. Luckily, these Facebook Story Halloween features include masks and spooky camera effects, and they're here just in time for the most frightening night of the year. As the old saying goes, "If you don't post about your Halloween experience on social media, did you actually celebrate Halloween?" The answer is, "most likely not."
Facebook is testing out a spooky new feature for all U.S. residents on Oct. 31, according to Facebook. For 24 hours, you'll see a special friends-only Halloween Story at the top of your Facebook page. The Halloween Story will exclusively show your friends' Halloween adventures, and you can add to it, too, for only your friends to see.
While a friends-only Halloween Story is super fun, Facebook is making it awesome by offering a variety of festive camera effects. Deck yourself out in a vampire mask, type something using a ghostly frame, or add a few batty stickers to haunt your background. Then, after jazzing your photo or video, you can upload it to both the Halloween Story, and to your own personal Story. Only your friends will be able to see your post in the Halloween Story, and depending on your privacy settings, your friends, friends of friends, or even the public can view your own personal Story. Spooooky.
If any of your pals friends have already posted to the Halloween Story, according to Facebook, you can check it out at the top of your News Feed, where you usually see other Stories. You might also see a message in your News Feed, which will directly link to the Halloween Story. If you're viewing the Halloween Story and you want to add to it, click "Add to Story" and snap a photo or video, and add your spooky effect of choice. Show off your trick-or-treating crew, your haunting decorations, or your spooky dance moves. Regardless of what you decide to do, though, make sure your Story is scary good.
According to Facebook, Sam Parker, Facebook's Product Manager said he knows users enjoy celebrating the holidays and sharing what they're up to. He hopes more people will come together through the Halloween Story, by watching it, and by posting their own.
Per Facebook, Parker said:
We know people like celebrating holidays with friends and family, so we're testing a new way for people to come together through Stories.
Apparently, this isn't the first time Facebook has tested out a feature like this, according to Facebook. In Vietnam, they did a friends-only Story for the Mid-Autumn Festival, and in Indonesia, they set up one for Batik Day. Hopefully this means they'll have a Holiday Story this year, so you can see how all your friends are celebrating the jolliest day of the year... hopefully with a Santa beard mask, of course. Maybe? Stay tuned.
If you're a fan of all those spooky filters, you probably remember using Instagram's Halloween filters last year. Whether you transformed into a vampire or if you were simply looking to tell a haunting ghost story, it definitely came in clutch for all of my creep-tastic needs.
See what your friends are up to this Halloween by checking out Facebook's Halloween Story. Snap a photo or video for yourself, deck it out in a mask or effect, and scare literally everyone. Social media is a big part of Halloween nowadays, so definitely make sure to add to the fun. Happy scaring!