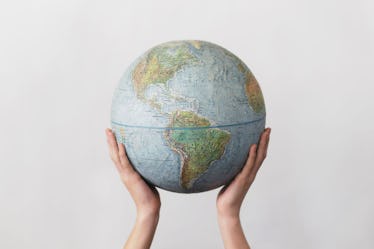 You Can Score Cheap Flights, Hotel Rooms, & Even Burgers With These Earth Day Deals
Earth Day is just around the corner, folks, and there are so many ways to celebrate this big blue planet that gives us all life. You could sign up for a local beach or park cleanup, swap out your car commute for a bike or bus commute, or join a community group the organizes around climate change and sustainability. To help you celebrate this important day, various companies and brands have Earth Day 2019 deals that promote sustainability and green shopping, so you can save money and help save the earth at the same time.
First, a little history. According to the Earth Day Network, Earth Day was founded by Gaylord Nelson in the '70s when he was a U.S. senator from Wisconsin. On April 22, 1970, 20 million people marched in rallies across the United States for a healthy and sustainable environment, and the march brought together people who had been fighting against oil spills, pesticides, the loss of wilderness, and the lost of wildlife under one common goal. Next year will mark the 50th anniversary of Earth Day, and while people all over the world have made big strides towards better environmental protections, there's still a lot of work left to be done to better protect the planet and all life on it.
In honor of this important day, here are five deals that will help you go green so you can play your part in protecting the planet.