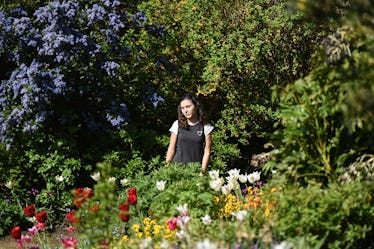 How To Shop Sustainably For Earth Day, So Both You & Mother Earth Can Look Great
Mary Turner/Getty Images News/Getty Images
From a young age we were all taught to respect our mothers, so why do we treat Mother Earth so terribly? The fashion industry is a whimsical and exciting realm, but it's not always great for the environment. But no need to panic. With Earth Day around the corner on April 22, we've gathered a few recommendations for where to shop sustainably for Earth Day, so you don't have to feel guilty about rocking that super cute outfit.
Believe it or not, the fashion industry is one of the largest polluters in the world, second after oil, according to Eco Watch. How is this possible? Well a huge reason is due to all the elements it takes to manufacture and distribute clothing, and the huge impact it makes on the environment. Natural resource extraction, water waste, and dyeing fabrics are just a few factors that go into producing clothing, not to mention the fossil used for shipping them worldwide.
The impact these elements have on the environment is undeniable, and certainly not helping the fight to find solutions for climate change. Have I totally bummed you out? Well here's some good news. There's a number of brands that recognize this huge problem within their industry, and are facing it head on. Who said sustainability can't be sexy? Just peep these collections and try not to overdraft your bank account.