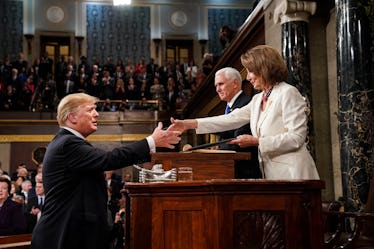 Donald Trump Has Had Some Petty Things To Say About Nancy Pelosi
Pool/Getty Images News/Getty Images
The relationship between House Speaker Nancy Pelosi and President Donald Trump has been tumultuous to say the least. Over the past few months, these two political leaders engaged in heated debates, fought over budget spending, and took part in some subtle name-calling. However, it looks like the tension has no end in sight, and these Donald Trump quotes about Nancy Pelosi prove it.
Tensions between Trump and the House have increased over the recent months, and at the forefront of the battle is House Speaker Nancy Pelosi. These two leaders have battled it out over a variety of issues, but arguably the biggest one has been about Trump's proposed wall that would be built between the United States and Mexico. So far, the House has successfully denied any proposal Trump has made in regards to building the wall, but that's come with its consequences. On Dec. 22, 2018 the government shut down due to Congress and Trump not coming to an agreement on budget spending for the new year. This government shutdown lasted until Jan. 25, and it marked the longest government shutdown in United States history. Luckily, the country was able to avoid a second government shutdown by reaching an agreement on Feb. 14, and it did not include nearly six billion dollars for a border wall. (Trump separately declared a state of emergency on Feb. 15 over border security, and on March 11, he revealed in his 2020 budget proposal that he is asking for $8.6 billion to build the wall.)
This border wall debate has been a special point of contention between Trump and Pelosi, and Trump hasn't been easy in his commentary about the house speaker. Just take a look and see for yourself.