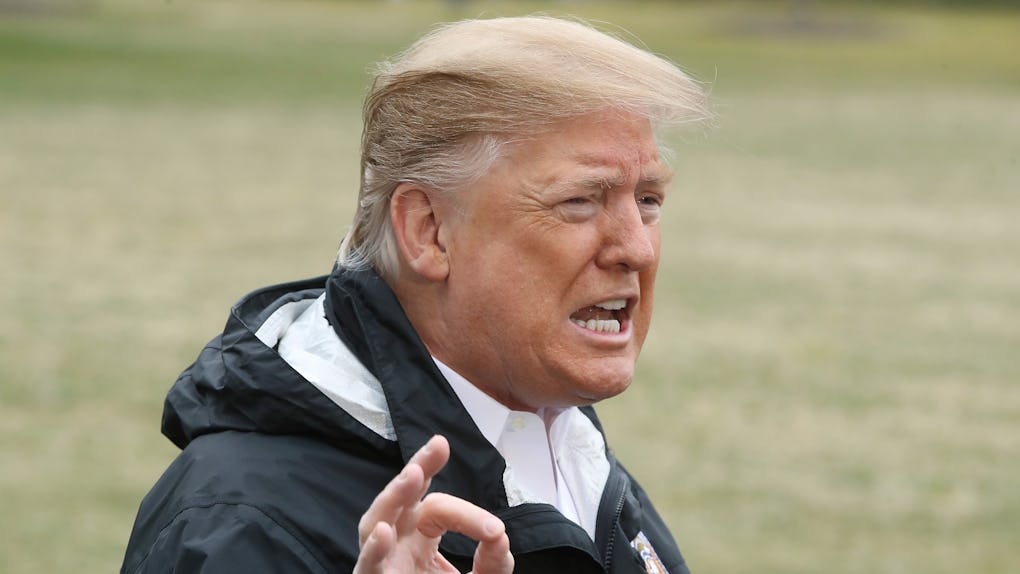 Mark Wilson/Getty Images News/Getty Images
These Donald Trump Quotes About Bernie Sanders Have Me So Confused
Bernie Sanders never quite made it to the match against President Donald Trump in 2016. The world missed out on that showdown back then, but they could be seeing it in 2020 since Sanders has officially announced his plans to run for president in the next election cycle. With a possible Trump versus Bernie match on the horizon, it's important to take a deep dive into their past. These Donald Trump quotes about Bernie Sanders have me so confused, because he really can't seem to make up his mind.
Let's start with the easy part: Sanders is not a Trump fan. During an October 2018 campaign event for Maryland Democratic gubernatorial candidate Ben Jealous, Sanders called Trump "the most racist, sexist, homophobic, bigoted president in history," according to The Hill. After announcing his bid for president, in a March campaign rally in Concord, New Hampshire, Sanders called Trump "the most dangerous president in modern American history," according to The Washington Post, and added later that the president "embarrasses us every day." The White House did not immediately respond to Elite Daily's request for comment on Sanders' remarks.
So Sanders has made his opinions on Trump pretty clear, but what does the president think of his might-be opponent? Well, these quotes from Trump about Sanders might shine some light onto what he thinks about the Democratic candidate, and maybe even shed some light on what the public can expect if these two go head-to-head in 2020.
Trump Has A Nickname For Sanders.
After Sanders officially announced that he would be giving the whole run for president thing another shot back in February, Trump took to Twitter to send his well-wishes and revive an old nickname. "Crazy Bernie has just entered the race. I wish him well," Trump wrote in his Feb. 20 tweet. The White House and representatives of Sanders did not respond to Elite Daily's request for comment on the nickname.
Trump first used the nickname in a November 2016 tweet before Hillary Clinton beat Sanders out for the Democratic nomination. Since then, the president has used "Crazy Bernie" numerous times to refer to Bernie, according to the Trump Twitter archive.
But He's Not Terribly Creative About It
During a Jan. 20, 2016 campaign rally in Norwalk, Iowa, Trump called Sanders a "whack job." Addressing the crowd, he said, "How about this guy — this socialist Bernie Sanders? This guy's a total whack job," according to NBC News.
Trump's jab at Sanders came a few days after The Des Moines Register/Bloomberg Politics poll published on Jan. 14, 2016, had Sanders as the top choice for Democratic candidate at 40 percent in Iowa, just two points behind Clinton.
He's Got An Impression Of Sanders
During a Make America Great Again (MAGA) rally in Wilkes-Barre, Pennsylvania on Aug. 2, 2018, Trump went after Sanders again. He said,
Crazy Bernie, I tell you, I gotta hand it to Bernie. I saw him up there the other day. That hair is getting whiter and white, and he's getting crazier and crazier.
Trump then broke off into an impression of Sanders, raising his fists up and down and mimicked Sanders' voice "We'll stop Donald Trump, we'll stop Trump." The president then said that he has to "hand it to" Sanders for not quitting. Trump added,
I looked at my wife, I said 'you know what, you gotta hand it to that guy. That guy, he doesn't quit and that's OK. Crazy Bernie, he's one crazy dude.'
But He Also Had Some "Supportive" Things To Say
Trump might call Sanders "Crazy Bernie" and make fun of his hair, but a lot of Trump's tweets about Sanders express, let's call it, sympathy. The president has often tweeted that he feels Clinton stole the Democratic primary from Sanders. For instance, in a Nov. 3, 2017, tweet Trump wrote, "Bernie Sanders supporters have every right to be apoplectic of the complete theft of the Dem primary by Crooked Hillary!"
Trump is likely referring to suggestions that the Democratic National Committee favored Clinton and gave her an unfair advantage over Sanders in the 2016 primary circuit, allowing her campaign input on staffing, budgeting, and other details. However, while former interim committee chair Donna Brazile revealed that the Clinton campaign had been given influence, she expressly denied that the primaries had been rigged. "I found no evidence, none whatsoever." she said in a November 2017 appearance on ABC News' This Week.
In any case, it's probably more likely that Trump's tweet was an attack on Clinton rather than support for Sanders. The president's animosity towards his former campaign opponent is pretty well documented, tweeting Clinton's name at least 174 times since the 2016 election, per the Trump Twitter Archive. His obsession even prompted Clinton to respond with a Mean Girls meme.
So, is Trump hoping to go up against Sanders, scared of it, or some strange mix of emotions that is undefinable to anyone except a really good therapist? Who knows, but it will be interesting to see what the president has to say about his opponent (whoever it is) once that 2020 finish line draws closer.