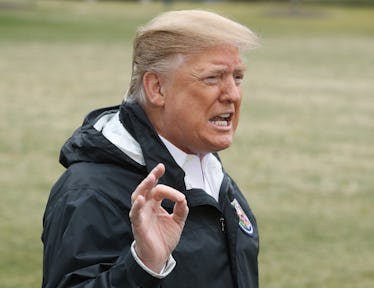 Donald Trump Can't Seem To Make Up His Mind About Bernie Sanders
Mark Wilson/Getty Images News/Getty Images
Bernie Sanders never quite made it to the match against President Donald Trump in 2016. The world missed out on that showdown back then, but they could be seeing it in 2020 since Sanders has officially announced his plans to run for president in the next election cycle. With a possible Trump versus Bernie match on the horizon, it's important to take a deep dive into their past. These Donald Trump quotes about Bernie Sanders have me so confused, because he really can't seem to make up his mind.
Let's start with the easy part: Sanders is not a Trump fan. During an October 2018 campaign event for Maryland Democratic gubernatorial candidate Ben Jealous, Sanders called Trump "the most racist, sexist, homophobic, bigoted president in history," according to The Hill. After announcing his bid for president, in a March campaign rally in Concord, New Hampshire, Sanders called Trump "the most dangerous president in modern American history," according to The Washington Post, and added later that the president "embarrasses us every day." The White House did not immediately respond to Elite Daily's request for comment on Sanders' remarks.
So Sanders has made his opinions on Trump pretty clear, but what does the president think of his might-be opponent? Well, these quotes from Trump about Sanders might shine some light onto what he thinks about the Democratic candidate, and maybe even shed some light on what the public can expect if these two go head-to-head in 2020.