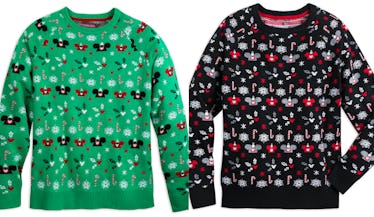 Disney Is Selling Mickey Mouse "Ugly" Christmas Sweaters For A Magical Holiday Season
Everybody and anybody loves a good old-fashioned ugly Christmas sweater. Heck, I have about five or six in my closet right now, as we speak. At this point, I didn't think I really needed any more of them, but these Disney ugly Christmas sweaters featuring Mickey Mouse have entirely changed my mind. Excuse me while I buy 50 of these — one for each and every single one of my family members, friends, and acquaintances.
The Disney Store is famous for its magical Disney merchandise, and now you can choose from two ugly Christmas sweaters to add a magical spark to your season. They're definitely holiday season must-haves, regardless of how many you may already have.
First off, Disney's Mickey Mouse "Ugly" Christmas Sweater For Adults is green, and it features rows and rows of tiny Mickey Mouse ears in red and black, along with candy canes, boughs of holly, and, of course, snowflakes galore. It comes in unisex sizing so you can buy matching ones for you and all your BFFs, and they'll only cost you $54.99 each. That may sound a little costly, but in my book, a little extra special holiday spirit is completely priceless.
Next up is the Mickey Mouse Ear Hat "Ugly" Sweater for Women. It's black, and like the green version, it features several rows of tiny Mickey Mouse ears, but this time in red and grey. They're mixed in with rows of candy canes, snow flakes, and holly, and correct me if I'm wrong, but for $54.99, I'm really not sure you can find a greater sweater than this one.
The Disney Store is also selling a variety of other adorable holiday sweaters right now. They aren't labeled as "ugly" per se, but they're incredibly festive and super magical nonetheless. First off is this super cute Mickey Mouse Sweater Dress, which'll only cost you $64.99, as well as a Mickey Mouse Fair Isle Pullover for Adults, which is on sale for only $44.99. The Mickey Mouse Family Holiday Sweater on sale for only $39.96 is definitely a bargain. My absolute favorite item of them all, a Stitch Light-up Holiday Sweater, is currently on sale for $44.95. Featuring everyone's favorite little blue alien from Lilo & Stitch, it definitely takes the cake.
Take a look at the holiday sweaters in all their Disney glory. This sweater dress was literally made for your mom, aunt, and next-door neighbor. TBH, I think everyone needs one of these.
This Mickey Mouse Fair Isle Pullover may have literally been designed for a dad, no?
OK, how cute is this colorful Mickey sweater? If any of my cousins are reading this, expect to get this delivered to your doorstep.
... And this one is obviously my fave. This one's for me.
Once you've bought out Disney's entire line of not-so-ugly Christmas Sweaters, make sure you take a gander at these Ariana Grande and Cardi B Ugly Holiday sweaters. Grande's comes in black, decked out in kissy lips and snowflakes, and says "Opening presents like 'thank u, next,'" with her face plastered across the front. Cardi B's, on the other hand, is black and is totally decked out in Christmas trees, dollar signs, snowflakes, high heels, and diamonds, and says, "All I want for Christmas is shmoney okurr," with her face stitched across the front. It'll definitely inspire you to make some money moves this holiday season.
Honestly, WOW. The Disney Store is making my Christmas shopping easier than ever this year. Everything I need on my list is literally on the same website, so thank you, Disney — you've literally saved me from a whirlwind trip to the mall this holiday season.