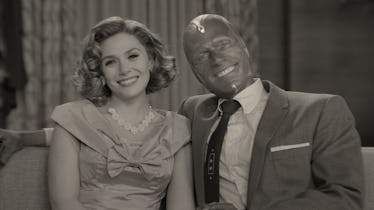 6 Tiny Details In The 'WandaVision' Trailer That Hint At What's Coming
Marvel
When Marvel first attempted to move the Marvel Cinematic Universe to TV with Agents of S.H.I.E.L.D., it was a semi-disaster. The broadcast model did not lend itself well to syncing up with the big screen films, and the project was soon abandoned, leaving Marvel's TV and movies as two separate universes. The arrival of Disney+ has inspired the MCU to try again, this time with short "limited series" starring the same actors in their big-screen roles. But even before the first Disney+ series for Marvel arrives, fans have questions. These details in Disney+'s first WandaVision trailer might help viewers understand what they're getting into with the MCU's new direction.
The MCU's plans for these shows and movies to be intertwined has already been disrupted. WandaVision wasn't even supposed to be the first Disney+ series from the MCU. That honor was supposed to go to The Falcon & The Winter Soldier, a short adventure series setting up Anthony Mackie as the new Captain America. WandaVision was supposed to arrive in the spring of 2021, just ahead of Doctor Strange & The Multiverse of Madness, setting up that film.
The coronavirus pandemic has changed all that, as did the success of Disney+. With big-screen films pushed down the calendar into 2022, these limited TV series simply cannot wait for the world to restart. Moreover, Disney+ needs content, since that's where audiences are hanging out until the pandemic is over. So, even though WandaVision was supposed to be a Doctor Strange lead-in, it seems now the MCU Disney+ shows will run when they're ready, and the big screen films will have to catch up when they can.
Here are some of the essential details revealed in the show's first promo, which fans should file away for whenever it does premiere: