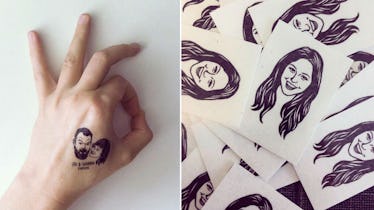 These Temporary Custom Face Tats Of You & Bae Will Make Your Wedding So Much Cooler
Temporary tattoos are great for those of us who really love the idea of getting a tattoo, but aren't quite ready to commit to something permanent. There are countless designs for so many occasions. From vibrant festival-inspired tattoos, to watercolor floral designs, you're set to slay all day with an extra pop of color. But what about getting a tattoo of your face? I personally would do it in a heartbeat if it was literally just for one day, because why not? And with these customized temporary tattoos of your face, you're able to make your part-time tat dreams come true.
That's right — ordering your very own temporary tats of your face is made easy by this Etsy shop that offers custom portrait tats. The possibilities are endless, and quite honestly, the ideas are starting to flow my way. I'm imagining getting custom tats of my face for my friends to wear. Sure, it may be a little vain of me, but hey, it's fun to think that my friends can hang out with me for a day when I'm not even there.
In all seriousness though, these tats are really just perfect party favors for your next shindig. So, if you're tying the knot, have an upcoming birthday party, or your BFF's bachelorette weekend is right around the corner, you really should consider getting some tattoos for everyone to wear.
They're The Perfect Wedding Favors To Say "I Do" To
Custom Couple Portrait Temporary Tattoos, $90+, Etsy
Forget the bubbles and pastel-colored almonds for your wedding favors. Even those M&Ms with the happy couple's faces on them don't compare to having every guest at your wedding rockin' these awesome tattoos. They're cute AF, and if you're digging them as much as I am, head on over to Lilimandrill's Etsy store to purchase your own. Heck, why not go all out and use them for save the dates to send out to your friends? All you'll need is one of your fave pics of you and bae with your wedding date on the bottom, and you're set.
I'm not walking down the aisle anytime soon, so I'm wondering if I can get a tat of me and my cat together. We are a happy couple, after all. I mean, you don't need someone else for your tat, either. You can still totally get customized temporary tattoo portraits just for you, starting at $70. So, you best believe I'm fulfilling my dreams and getting tats of my face to hand out to all my friends.
Custom Portrait Personalized Gift Temporary Tattoos, $70+, Etsy
According to the seller, all tattoos are sketched out by hand with a pencil, so it really does look and feel like this was tattooed onto your skin. No one will know from far away that you literally just put that tat on with some water. Plus, according to the website, these tats will last two to three days, so be sure to snap some cool pics for the 'Gram.
Real Talk: The Hand-Drawn Tattoos Seriously Look Just Like Your Photos
After ordering, you just send in your pic of choice, and your tattoos will be drawn to your liking. The resemblance between the photo and tattoo masterpiece is incredible. And, not only are temporary tattoos an option for you, there are also mugs and stamps that can be ordered with your face on them as well.
So, after the tats are all gone, go around stamping your pic everywhere for people to see. OK — I may be getting a little carried away, but these tats are just getting me so excited. I truly have a million ideas, so I better start saving up. Plus, I have to warn my friends to start making room on their arms, because I'm getting temporary tattoo fever.