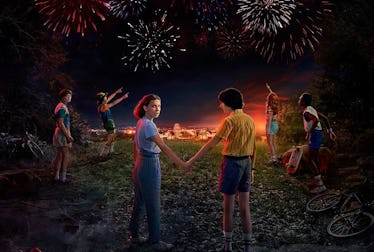 Here Are All Of The Clues We Found In The 'Stranger Things' Season 3 Trailer
Netflix
When I was a kid, my dad used to say: "Begin as you mean to go on." If peak TV has begun 2019 as it means to go on, god help every single reporter who covers television. Because at 12:01 a.m. ET on the morning of Jan. 1, 2019, Netflix dropped the announcement for Stranger Things Season 3's release date this coming July 4. But once the hangover lifted, it became apparent this is no ordinary premiere announcement. The clues in the Stranger Things Season 3 trailer suggests there are puzzle pieces hidden all over the place for the new season.
The first clues fans got were in an odd video last summer broadcasting the arrival of the Starcourt Mall. There was something afoot, but no one could pinpoint what. Stranger Things also released a companion book for the first two seasons. But the book had morse code messages in it, which fans thought were for Season 3.
The Week Is Long (Page 22)
The Silver Cat Feeds (Page 62)
When Blue And Yellow Meet In The West (Page 79-80)
A Trip To China Sounds Nice (Page 172)
If You Tread Lightly (Page 209)
Here's the Starcourt Mall trailer as a refresher:
And here's the new trailer:
Let's break it down.