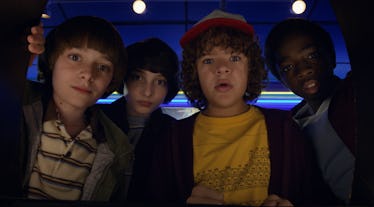 A 'Stranger Things' Book Series Is Coming & Nothing Has Prepared Me For This Moment
Netflix
There are still so many facets of Stranger Things that are a mystery to fans, but we've just had to assume that the show will reveal things in due time once it returns to Netflix for a third season. However, we now have hopes for getting answers to our most complicated questions in an entirely different format. A Stranger Things book series is coming, and I definitely didn't anticipate this. Am I complaining, though? Um, totally not.
The world of Hawkins was already going to cross over into real life this fall, when Universal Studios incorporates the Indiana town into its annual Halloween Horror Nights event. However, according to Deadline, Penguin Random House will soon partner with Netflix for books based on the hit series. Plans are already in motion for the deal's first two titles, which will include a behind-the-scenes companion book and a hardcover gift book aimed at younger readers. The latter will consist of "advice, wisdom, and warnings from the Stranger Things world," while the companion book will launch under the title Stranger Things: World Turned Upside Down: The Official Behind-The-Scenes Companion.
These introductions will hit shelves in the fall, while a Stranger Things prequel novel will be released next spring. Excuse me while I preorder these ASAP.
Author Gwenda Bond, who has previously written a young adult series about Superman's Lois Lane, among other YA and children's books, will write the prequel, which explores the story of Eleven's mother and the MKUltra program. Cross that backstory off of your "big Stranger Things questions" list! The book will precede the late 2019 releases of other Stranger Things stories meant for both adults and young readers.
Bond shared her exciting news on Twitter before sharing a slightly more detailed synopsis of the story. She may be sworn to secrecy, but I'm hoping that she at least shares her inspiration playlist on Spotify for fans to get into the right mood for a prequel.
As we learned in Season 1, Terry Ives became involved with Dr. Brenner's MKUltra program and its disturbing experiments as a college student. When she became pregnant, Brenner kidnapped the baby, then named Jane, to use her for more experiments, and Terry's attempts to win her daughter back eventually ended with Brenner's team electrocuting her. With Eleven on the loose and Will still missing in Season 1, Hopper and Joyce tracked down Terry, who was in such an unresponsive mental state that her sister insisted that Terry had miscarried Jane.
In Season 2, Eleven learned about her mother's whereabouts, but instead met with her aunt Becky when she visited their home. Eleven managed to mentally connect with Terry and learn the truth about their shared past, which set Eleven on the path to find another Hawkins lab experiment, Kali.
We may be all caught up with Terry's 1980s storyline, but the exact details of how she fell pregnant and became involved with MKUltra are still a mystery. Given that Season 3 has a full roster of new characters to introduce, the show can't exactly devote too much time to Eleven's biological family again. Explaining the truth in a book will allow for plenty of new information without slowing down the third season's pace. Can I put in a request for a "Hopper and Joyce in high school" prequel next?
Season 3 of Stranger Things began filming in April, but reports say that we likely won't see new episodes on Netflix until 2019. Executive producer and director Shawn Levy has also confirmed that Season 3 will take place in the summer of 1985, which expands the chances of the kids getting into even more trouble without school holding them back.
We may have to wait quite awhile until the show returns, but I can't wait for Bond's prequel and the companion book to provide new insight on the Stranger Things universe.