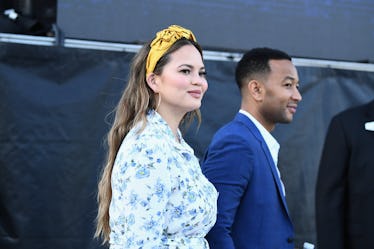 These Chrissy Teigen Headband Of The Day Halloween Costume Ideas Are So Stylish
Emma McIntyre/Getty Images Entertainment/Getty Images
Sometimes, the universe gifts you with the perfect Halloween costume. Something simple. Something pretty. Something you would want to wear anyway, even if it wasn't a special occasion. This year, that gift is Chrissy Teigen's headband of the day. Pair a headband with some fierce cheekbone highlighter, clean skin, and great eyebrows and BAM! You're Chrissy Teigen. Here are a few great Chrissy Teigen headband of the day Halloween costume ideas to get you started on your spooktacular glow-up.
First, you've got to decide which headband of the day speaks to you the most. Teigen's rocked glam bands, top knots, scarves, and bows. With all that the headpiece world has to offer, your options are truly endless. A good place to start is to consider what kind of hair and head shape you're working with. I know that sounds weird, but trust me. The back of my noggin is pretty flat, which makes it hard for elastic bands to stay tucked at the nape of my neck. For these reasons, fabrics with a wire framework best for me. You might prefer a traditional headband that sits on top of your hair part and doesn't go all the way around. Other people might prefer a 360-wrap-like approach.
Poke around and see what suits you!
Glam Band
To recreate this look, opt for a piece in a luxurious material like velvet or satin. It helps if you can find something with a little metallic sheen to it! Wear like a crown on top of teased va-va-voom waves for the full effect!
Satin Knot Headband, $18, Anthropologie
Top Knot Tie
This look is super understated and so, so cute. Adding a little bit of detail to your messy top knot is a perfect way to jazz up an outfit without making any effort. Rock the wrap with a clean face. (Swaddle and fake baby optional.)
Vintage Silky Printed Scarf, $10, Urban Outfitters
The Thick Twist
This look features a thicker band and front knot that is so cute. Here, Teigen opted for something with a little bit of shimmer! Replicate the look by piling all of your hair towards the back of your head and wearing the band right across your hairline.
Pleated Turban Headwrap, $24, Nordstrom
The Simple Patterned Wrap
A statement piece is always worth it. Aim for something jungle-inspired, be it flora, fauna, or wild animal prints. Teigen rocked busier patterns with simple black tank tops which allowed her headbands to pop!
Run Wild Headband, $18, Anthropologie
Easy Breezy Baby
When less is just more, ya know? Reach for something simple and sporty to replicate Teigen's look here and build the rest of your costume out of workout clothes. Sexy. Simple. Comfortable. Chrissy. (I'm trademarking that.)
Fringe Fighter Headband, $18, Lululemon
Truly Chrissy, thank you for all that you are and all that you give. I can't wait to look fierce AF this Halloween and then tell people I'm you, babe.