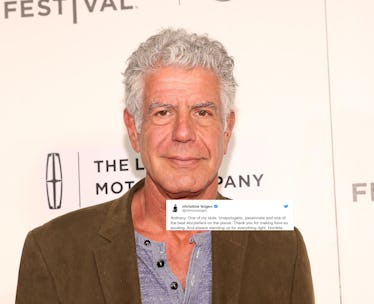 Chrissy Teigen & Other Celebs' Reactions To Anthony Bourdain's Death Will Break Your Heart
Robin Marchant/Getty Images Entertainment/Getty Images
Chef and TV host Anthony Bourdain has died by suicide, CNN confirmed on Friday morning. Bourdain's impact on the world as a food connoisseur and world traveler was immense, and these celebrity reactions to Anthony Bourdain's death will break your heart.
CNN reports that the 61-year-old was in France to film an upcoming episode of his CNN series Parts Unknown. Bourdain's friend and French chef, Eric Ripert, found him unresponsive in his hotel room on Friday morning. In a statement, CNN said:
It is with extraordinary sadness we can confirm the death of our friend and colleague, Anthony Bourdain. His love of great adventure, new friends, fine food and drink and the remarkable stories of the world made him a unique storyteller. His talents never ceased to amaze us and we will miss him very much. Our thoughts and prayers are with his daughter and family at this incredibly difficult time.
Bourdain first appeared on television in his 2002 Food Network series, A Cook's Tour. From 2005 to 2012, he hosted what many consider to be his most well-known project, the Travel Channel show Anthony Bourdain: No Reservations, which followed Bourdain's worldwide search for authentic local cuisine and culture. He was also the author of several nonfiction books, including the bestsellers Kitchen Confidential: Adventures in the Culinary Underbelly and The Nasty Bits. As evident by other celebrities' heartfelt tributes upon hearing about his death, Bourdain's hunger for adventure and storytelling captured the hearts of many.
Chrissy Teigen, who has also built a name for herself in the cooking world, was one of the first stars to recognize the loss, calling Bourdain "one of my idols."
Antoni Porowski, the food and wine expert of the Queer Eye cast, also posted a loving message.
Even without distinct links to food, other celebrities were quick to share sweet memories of Bourdain and post helpful resources for their followers.
Several of Bourdain's former culinary colleagues also took to Twitter with their heartbreaking responses to his passing. Hell's Kitchen's Gordon Ramsay included hotline numbers in his tribute, while British chef Jamie Oliver credited Bourdain in an Instagram post for pushing "the culinary conversation." Top Chef head judge Tom Colicchio wrote that Bourdain's "restless spirit" will surely keep wandering around the world. In his briefer, solemn tweet, Food Network star Alton Brown summed up fans' shock about the news. These culinary icons' nods of recognition are clearly only the beginning of applauding what Bourdain taught about food and travel.
Bourdain's series, Parts Unknown, has aired on CNN since 2013. The show, focusing on lesser known parts of the world and their hidden gems, has won five Emmys in the past. When news of Bourdain's death broke, the Parts Unknown Facebook page posted a tribute image that included one of the host's famous quotes.
In 2013, the series even won the prestigious Peabody Award, which celebrates excellence in various types of electronic media's storytelling. In his acceptance speech, Bourdain said of Parts Unknown:
We ask very simple questions: What makes you happy? What do you eat? What do you like to cook? And everywhere in the world we go and ask these very simple questions, we tend to get some really astonishing answers.
It's clear that this message has touched countless others' lives and will now continue on as Bourdain's legacy. He leaves behind a daughter. Our thoughts are with her and the rest of Bourdain's family and friends.
If you or someone you know are experiencing suicidal thoughts, call 911, or call the National Suicide Prevention Hotline at 1-800-273-8255 or text HOME to the Crisis Text Line at 741741.