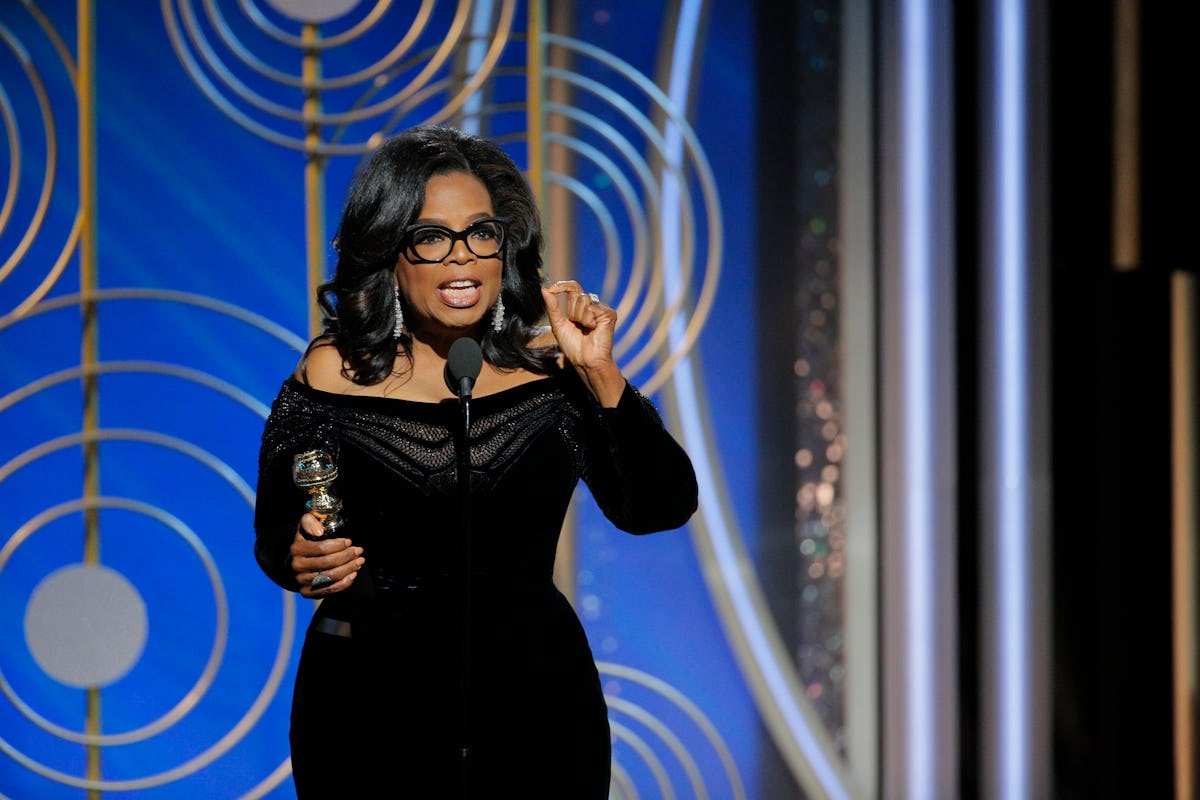 Here Are All The Celebs Who Just Might Run For President Next
Handout/Getty Images Entertainment/Getty Images
Safe to say, the election of Presidential Donald Trump changed politics and the standards to which we hold presidential candidates. The idea of previous work in the government or military being a prerequisite for the office is gone, which in turn means the idea of a celebrity president sounds less and less radical. So, it's no surprise that there's a growing list of celebrities who could run for president one day, or, at least, have entertained questions of whether they would.
That list includes some of the biggest names in Hollywood and in business, people who haven't exactly gone out of their way to shut down rumors that they're considering a run in 2020 or beyond.
In some ways, it might seem unreasonable. Sure, Donald Trump didn't have experience in government, but he sold himself for decades — through reality TV and other means — as the ultimate chief executive. Plus, there have been other candidates who tried to run off their corporate experience, too (Ross Perot, Carly Fiorina, etc.). Comparing him to any other celebrity isn't exactly apples-to-apples.
On the other hand, Trump's election did show that charisma paired with an effective rhetorical appeal goes a long way in a national election (which is probably more about style over substance than we'd like to admit).
That fact has clearly inspired other celebrities to talk about running, like:
Oprah Winfrey
Talks of Oprah running for president recently increased after her speech at the Golden Globes, but the topic of a possible White House run made news last year as well.
Back in March 2017, she implied in an interview with Bloomberg's The David Rubenstein Show that the election of Donald Trump made her think what once seemed impossible is now possible.
"I actually never thought that that was — I never considered the question even a possibility. I just thought, oh, oh ... I thought, 'Oh gee, I don't have the experience, I don't know enough,' and now I'm thinking, oh, oh," she said during the interview.
Fast forward a year and now she's being included in CNN polling about the 2020 race (and winning).
It's a new era, I tell ya.
Mark Zuckerberg
Since Donald Trump got elected president, Facebook CEO Mark Zuckerberg has done the following:
Hired former President Barack Obama's 2008 campaign manager
Hired the former chief strategist of Hillary Clinton's 2016 campaign
Hired a former official of former President George W. Bush's 2004 campaign
Hired a photographer of both aforementioned presidents
Gone on a "listening tour" around America, intending to meet people from all 50 states.
You can draw your own conclusions.
Mark Cuban
Cuban, an NBA franchise owner, TV star, and serial entrepreneur, could come closest to mirroring Trump's political rise.
Cuban has made numerous appearances on cable news networks, commenting on President Trump's job performance, like Trump did with the previous president.
Cuban has also teased the idea of running for president in multiple interviews, like Trump did.
"I think that given the circumstances, there's a unique opportunity for someone like me who's independent, and not affiliated to a party in any way," Cuban said, during The New York Times DealBook conference last November. "I think that people are looking for an independent voice. A real independent voice that has at least an inkling of what they're talking about."
He added during that conference that he has "a year to find out" and decide if he'll run.
Dwayne "The Rock" Johnson
Consider this timeline:
Back in summer 2016, The Rock told British GQ that politics could be in his future.
"I'll be honest, I haven't ruled politics out," he said during an interview. "I'm not being coy when I say that, but at the moment I am not sure. I can't deny that the thought of being governor, the thought of being president, is alluring. And beyond that, it would be an opportunity to make a real impact on people's lives on a global scale. But there are a lot of other things I want to do first."
Shortly after, The Washington Post published an article featuring analysis that discussed his chances of succeeding in politics.
Fast forward to December 2017, and the movie star tells Ellen Degeneres he's "seriously considering" a run for president. When he had a chance to explain where the thought to run came from, he said, "It started a few years ago from a piece in The Washington Post."
Just another celebrity it wouldn't be shocking to see on the campaign trail.
Kanye West
Kanye West's entry on this list is as simple as one, two, three:
He
Said
It
Back in 2015, to be more specific, he told the audience at MTV Video Music Awards, " I have decided, in 2020, to run for president."
Thanks for making that one easy, Yeezy.
Cynthia Nixon
Want to talk about long shots?
Nixon (aka Miranda from Sex in the City) is another celebrity who has been asked on the record about the possibility of jumping into politics, specifically with a run for governor of New York in mind.
"I think there are a lot of people who would like me to run," she told NBC's Today show last August. "I think for a variety of reasons but the one number is education."
She didn't indicate to Today any actually plans to run. Shortly after the new year, though, she gave a simple "maybe" to TV station NY 1 on the question of whether she was running.
Could she carve out a path to the White House one day? Well, she wouldn't be the first politician to make a transition from acting, to being governor of a coastal state, to becoming president.
Ivanka Trump
In Michael Wolff's highly publicized book about the White House, Fire and Fury, there's an interesting note about Ivanka Trump.
Trump, Wolff wrote, had discussed the possibility with husband Jared Kushner of becoming the first female president one day, if it ever came down to either of the two running.
"It was a joint decision by the couple, and, in some sense, a joint job," Wolff wrote in the book. "Between themselves, the two had made an earnest deal: If sometime in the future the opportunity arose, she'd be the one to run for president. The first woman president, Ivanka entertained, would not be Hillary Clinton; it would be Ivanka Trump."
Of all the claims in the book that have been disputed, and there are many, that one hasn't been, not yet at least.