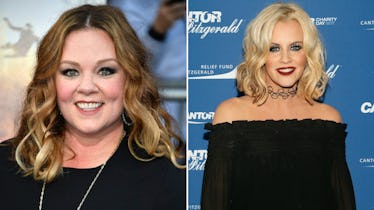 These Celebrities Are Actually Related & You Definitely Had No Clue
Frazer Harrison/Getty Images, Paul Morigi/Getty Images
It seems like there are currently more famous sets of celebrity siblings out in Hollywood than ever before. There's Chris and Liam Hemsworth, Jake and Maggie Gyllenhaal, James and Dave Franco, Elle and Dakota Fanning. The entire Kardashian-Jenner crew. The Hadids. Beyoncé and Solange. The list goes on and on. And while all of these impressive sets of sibs are pretty well-known, there are plenty of others who keep their #FamGoals status on the down low. Here are five sets of celebrities that are related and you probably had no idea.
1. Jonah Hill and Beanie Feldstein
He is known for his comedic roles in films like Superbad, Knocked Up, Forgetting Sarah Marshall, Get Him to the Greek, and 21 Jump Street, but it's Jonah's Hill's little sister, Beanie Feldstein, who is currently garnering all the attention out in Tinseltown, thanks to her star turn in Lady Bird.
Though the pair has kept their brother-sister status on the DL, a lot of people caught on when the 24-year-old actress attended the SAG Awards on Jan. 21. On the red carpet, a reporter for E! News said to the actress, "A lot of people may not know this, but your brother is Jonah Hill."
Beanie opened up about her relationship with Jonah in an interview with The Cut. "We're very, very close," she said. "We're best friends."
2. Kate and Rooney Mara
Yup, the Girl With the Dragon Tattoo and the reporter who got infamously thrown in front of a train in Season 2 of House of Cards are sisters. And their upbringing was anything but basic — their mom's family founded the Pittsburgh Steelers, and their father's family founded the New York Giants. Pretty cool, right? Still, despite growing up in the same house, the sibs are very different, with Rooney describing herself as shy and reserved, and Kate as more outgoing.
"She has a better personality than I do," Rooney told Vogue of Kate. "People like her more."
3. Blake and Robyn Lively
One of them is famous for playing a Teen Witch and the other is famous for playing a teen, well, something that rhymes with "witch." And while I'm pretty sure Louise Miller and Serena van der Woodsen would never have been friends in high school, sisters Blake and Robyn Lively have a super close relationship in real life. The Gossip Girl alum even recently gave her sister's iconic '90s character a shout-out on Instagram.
"Who wore it bett..SHUT-UP!!" she captioned the side-by-side image. "We all know Teen Witch wins. Always. All ways."
4. Hallie and Jesse Eisenberg
She's the adorable, curly-haired little girl who won our hearts by starring alonside Robin Williams in Bicentennial Man, and by demanding a Pepsi in the voices of Marlon Brando, Aretha Franklin, and Joe Pesci in those infamous '90s TV commercials. He's the Oscar-nominated actor from The Social Network, who has also starred in films like Batman V Superman and Now You See Me. Obviously, talent runs deep in the Eisenberg family, because it turns out that these two are actually brother and sister.
5. Melissa and Jenny McCarthy
OK — Jenny and Melissa McCarthy aren't actually siblings. But they are cousins who grew up in Illinois and both came to Hollywood in their 20s.
Just check out this cute throwback Jenny posted on her Instagram of the two of them at the zoo:
'Me, my sis and my cousin Melissa. 102 degrees at the zoo, not happy campers. #tbt'".
Too cute! Fast-forward to the '90s, and an already-famous Jenny would eventually help her younger cuz land her first-ever TV role. The rest, as they say, is herstory.