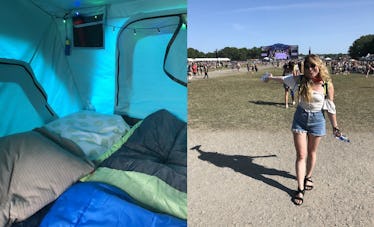 Spending The Night At A Music Festival Taught Me Pro Tips For Camping IRL
Courtesy of Amanda Fama
I was 18 years old when I went to my first camping music festival — and before that, I had never gone camping before. Back then, my friend and I were pretty inexperienced in the realm of camping, so we drove to Firefly Music Festival in Delaware with a folded tent and a packed cooler. Sure, we were a *tad* unprepared, but we still had a great time. Fast forward to 2019, and I feel like an expert now. To help other nature lovers, I created this list of camping tips I learned at a music festival. If I had it back then, I'm sure it would've helped.
I put my list together after Firefly Music Festival 2019, which featured artists like Panic! at the Disco, Travis Scott, Post Malone, and more. This year's event was a little bit different, though. Instead of packing my own tent and pitching it with the other campers, I tried the festival's "Elevated Camping" package, which provided elevated tents that were already set up upon arrival. It was convenient, to say the least.
Don't get me wrong, though: Whenever I attended Firefly in the past, I always brought my own tent and pitched it with everyone else. Thanks to those experiences (and my time in the Elevated Camping area), I was able to solidify my list of camping tips. Hopefully, it helps you out during your next camping excursion — whether you're at a festival or in the woods this summer.