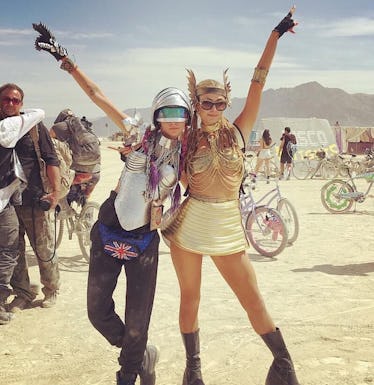 You Favorite Celebrities Brought Out All The Style Stops At Burning Man This Year
It's September, but New York fashion week hasn't got anything on what I consider to be the most sartorially exciting event of the season. A certain annual communal gathering just went down and photos of its creatively dressed attendees are slowly hitting Instagram to prove its superiority. Burning Man outfits are setting the internet ablaze and rightly so: they're hands down the most fun and eye-popping looks to check out year after year. Sorry, NYFW street style darlings, but your time to shine will need to wait a week or two.
A group of my friends and I have a pact to go to Burning Man together next year. We all love transformational festivals, believe in the power of intentional communities and everything Burning Man stands for, and are very, very down to get weird and wacky with some of the most wonderful people on earth. We're also very, very down to pull out all of the stops when it comes to dreaming up fantastical outfits to wear to the event, and all gush over the outfits that start trickling onto Instagram at the beginning of every September. Burning Man highly values creativity, environmentalism, uniqueness, and self-expression, so you can imagine that its attendees reflect that through what they wear. Take a look at some of the best ensembles that came out of this year's gathering and prepare to get majorly inspired. If Mad Max is your favorite movie, you'll be doubly enamored.
These uber long purple and pink braids are total beauty goals.
Alessandra Ambrosio looking like a desert ice queen! The chunky white boots add a cool punkish touch.
Feel the burn. <3
White hot.
See what I mean about Mad Max vibes? Karlie Kloss opted for combat boots and a bit of camouflage. Totally badass.
I love these wacky sunglasses Nina Dobrev wore! When it comes to accessorizing, more is more at Burning man.
Year after year I've seen embellished captain's hats like this one. I've gotta admit, they look pretty cool—especially when silhouetted against a sandstorm.
Tokimonsta is one of my favorite DJs and I love her colorful and playful take on playa style. Hard yes to those rainbow biker shorts.
Fur is also huge at Burning Man. Days might be hot, but nights get super cold. This trio knows what's up with their giant fuzzy coats.
I mean, is she a mirage?! From her beautiful silver chain top and crystal goggles to her Western inspired belt and braided headband, this model is nailing desert cool.
And of course, what would Burning Man be without Paris and friends? She always brings super playful and colorful style to the Playa. If you go to her Instagram and flip through this post, you'll see what other attendees like Cara Delevigne and Sara Sampaio wore.
As you can tell, the more unique and expressive the better. But if I learned one thing from this year's Burning Man style roundup it's that I'll need to get some super chunky and platformed boots before I go.