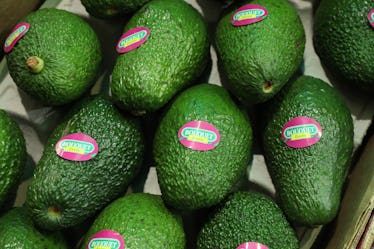 There's A New Type Of Avocado That's Seriously Huge, So It's Perfect For Making Extra Guac
Sean Gallup/Getty Images News/Getty Images
There's something really special about avocados. They're incredibly refreshing, enticingly creamy, and they can single-handedly turn any decent dish into an absolutely fabulous meal. And even though I'm overall pretty content with my local grocery's avo supply, it turns out that Australia sells "as big as your head" variations of the glorious fruit, which I definitely need more of in my life. So, if you haven't already caught a glance of these "avozillas," they're giant avocados and they sound like a dream come true.
This might just be me, but whenever I slice open an avocado for the sake of making toast, guacamole, or simply for eating on its own, I'm always left wanting more. And if you, too, constantly find yourself wanting more beyond the typical serving, "avozillas" weigh well over 1.2 kilograms, or 2.65 pounds, according to The Guardian, and they're honestly the perfect size. Yes, you heard that correctly — avozillas amount to about four times the size of regular avocados — and apparently, they taste just like the fruit you've come to know and love, with a slightly softer texture (aka it's way easier to spread on toast). Needless to say, I most definitely need one (or like, five) right now.
Just one avozilla sells for about $12 AUD (which is about $9 USD) a pop, according to The Guardian, and sadly, you can't find too many outside of where they're typically grown, in the land down under. My heart aches for these beautiful babes, however, so it looks like my next vacation will be a trip to Aussie land.
According to Bustle, growing an avozilla isn't easy. After planting an avozilla tree, it could take up to four freaking years for it to produce ripe, ready-to-eat fruit. They're grown in Queensland before being sent to grocers throughout Sydney, Perth, Brisbane, and Adelaide, and I don't know about you, but I'm having some major avo-driven FOMO right now. Unfortunately, though, avozilla trees are apparently "light producers," which make them somewhat of an oddity. They're really not as common as I'd like them to be... at least not yet.
Sadly, it looks like avozillas won't be coming to the U.S. anytime soon. But, if they do make their way to America, they'll be absolutely perfect for supplying Chipotle for everything they need in order to whip up their new large portions of guac. Amounting to eight giant ounces, the Tex Mex chain's new XL guac portion debuted back in September 2018, and it was totally and utterly groundbreaking. I, personally, am pretty ecstatic about it.
Don't get me wrong — there are very few things I'd change about the typical U.S. avocado. But, if I could make them, like, four times bigger, I totally would. Australia is way ahead of the game with their highly-innovative "avozillas," and honestly, I'm pretty desperate to snag a few of my own. So, throw a few shrimps on the barbie for me, because it looks like I'm headed to the land down under.