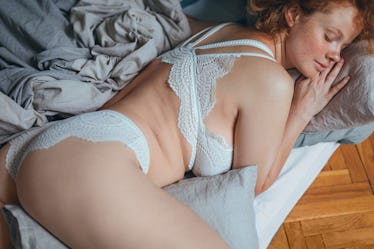 The Sex Dream You'll Probably Have Tonight, Based On Your Zodiac Sign
What's the best thing about getting a good night's rest? Is it feeling refreshed in the morning? No. Is it the healing powers of slumber on your mind and body? Nope. Is it just being able to shut out the rest of the world for a few hours? Nuh-uh. The best part of a good night's sleep is... drum roll... sex dreams, baby! We all have them, so don't be shy. Plus, depending on when you were born, you may even be able to guess what kind of sex dreams you have based on your zodiac sign.
Sometimes, sex dreams are about exploring things that you wouldn't dare consider in waking life. They could be about working out pent-up aggression or energy, or they could be your subconscious sending you a message that you're feeling some sort of way about someone, whether you're ready to admit it or not. Whatever the motivation, I think we can all agree that sex dreams are pretty awesome, and nothing to be ashamed of. Embrace them for what they are and also use them as an opportunity to get to know something you maybe didn't even realize about yourself. In the meantime, here's what you are most likely to dream about based, on your zodiac sign.