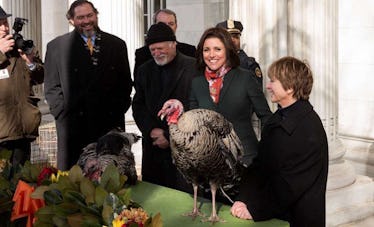 These Amazon Thanksgiving TV Episodes Will Help Bring You Family Together This Year
HBO
After a filling meal of turkey, mashed potatoes, and stuffing, there is nothing better than plopping down on the couch with the your family to watch something festive. Granted, Thanksgiving episodes are not always as easy to come by as, say, Christmas or Halloween specials, but there are still plenty of amazing shows that go all out for Turkey Day... and they're all available to stream, as well! These Amazon Thanksgiving TV episodes make up the perfect post-turkey TV binge. Just pull up your Amazon Prime account, flip to the video section, and you will find all of these Thanksgiving goodies waiting for you.
1. Veep, Season 5 Episode 5: "Thanksgiving"
Most families try to avoid politics when they get together for Thanksgiving, but Veep's Thanksgiving special should be an exception to that rule. The political farce begins with President Selina Meyer pardoning two turkeys, a Thanksgiving custom, but the holiday quickly goes off the rails as a turkey salmonella outbreak hits on the exact worst day, and Selina has to go into hiding after secretly getting plastic surgery on her eyes.
2. Sabrina the Teenage Witch, Season 4 Episode 9: "Love Means Having to Say You're Sorry"
There is no better way to get into the magic of the holidays than by watching Sabrina the Teenage Witch's Thanksgiving episode. The main story of the Season 4 episode focuses on Sabrina trying to win back Harvey after he caught her kissing another man, but Turkey Day gets some old-school love at the Spellman house when Hilda and Zelda summon a pair of pilgrims to prepare a traditional Thanksgiving meal for the holiday. But, of course, pilgrims and witches do not really mix all that well, and things go a bit haywire...
3. Friday Night Lights, Season 4 Episode 13: "Thanksgiving"
It makes sense that one of the most heartwarming shows of the past few years delivered one of the most memorable Thanksgiving episodes. Not only is "Thanksgiving" (obviously) a Thanksgiving episode, but it also serves as the season finale for Friday Night Lights' fourth season, so it packs a ton of plot points and resolutions into its forty minutes. But mostly, the episode is beloved because you get to spend Thanksgiving with the Taylors, and who wouldn't want that?
4. Chuck, Season 1 Episode 10: "Chuck Versus the Nemesis"
For anyone who wants a main course of action with their Thanksgiving TV viewing, look no further than Chuck's first season Thanksgiving episode. The spy-comedy centers on a high-pressure and super awkward Thanksgiving dinner, during which Chuck catches his super-spy nemesis kissing the girl he likes. That leads to computer hacking, double crosses, and a shootout — you know, normal Thanksgiving stuff.
5. Roseanne, Season 2 Episode 9: "We Gather Together"
Roseanne has a number of special Thanksgiving episodes available to stream on Amazon, but the first one always stands out as one of the best. The episode focuses on all of the awkward instances that can arise when the whole extended family gets together for a Thanksgiving meal.
6. The Good Wife, Season 4 Episode 9: "A Defense of Marriage"
If you are craving a twisty legal drama as a side dish for your turkey, then look no further than The Good Wife's Thanksgiving episode. While "A Defense of Marriage" largely focuses on a tax case that unexpectedly evolves into a major gay rights legal battle, the episode also features a particularly scathing Thanksgiving dinner that reunites the Florrick family.
7. Frasier, Season 4 Episode 7: "A Lilith Thanksgiving"
The Thanksgiving holiday finds Frasier Crane traveling across the country to Boston when his ex-wife Lilith asks him to help their son Frederick get into a prestigious school. Of course, Frasier's dad, Martin, and his brother, Niles, also tag along, and Niles attempts to prepare a Thanksgiving dinner for everyone.