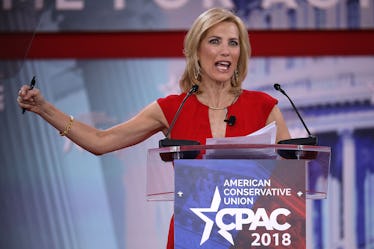 Advertisers Are Dropping Laura Ingraham's Show After Her Comments About David Hogg
Chip Somodevilla/Getty Images News/Getty Images
On Thursday, March 29, Fox News host Laura Ingraham apologized for comments she made about Parkland shooting survivor David Hogg's college applications, but that doesn't mean she's done taking flak for those comments. Now, sponsors of her primetime program are the ones most loudly voicing their displeasure. At least eight advertisers have reportedly dropped Laura Ingraham's Fox show over her comments about Hogg, which marks a significant loss of sponsorship for the conservative host.
One of those companies is TripAdvisor, which told NBC News through a spokesman that it does not "condone the inappropriate comments made by this broadcaster. In our view, these statements focused on a high school student, cross the line of decency."
Another brand that has decided to cut ties with Ingraham's show is the home-furnishing retailer, Wayfair. "As a company, we support open dialogue and debate on issues," Wayfair said in a statement to The Daily Beast. "However, the decision of an adult to personally criticize a high school student who has lost his classmates in an unspeakable tragedy is not consistent with our values. We do not plan to continue advertising on this particular program."
Other companies took to Twitter to announced they are not doing business with Ingraham's program anymore.
"We'd like to confirm that we are no longer advertising on Laura Ingraham's show and are monitoring all of our ad placements carefully," Hulu's official account tweeted in a direct reply to David Hogg.
Pet food brand Nutrish made a similar move, replying to many inquiring users who were asking about where the company stands on the issue. "We are in the process of removing our ads from Laura Ingraham's program," Nutrish's account tweeted.
Other companies that have reportedly pulled ads from The Ingraham Angle include Nestlé, Johnson & Johnson, Expedia, and Joseph A. Banks, per The Hill.
The loss of sponsors comes in spite of Ingraham's apology on Thursday.
"Any student should be proud of a 4.2 GPA —incl. [David Hogg]. On reflection, in the spirit of Holy Week, I apologize for any upset or hurt my tweet caused him or any of the brave victims of Parkland. For the record, I believe my show was the first to feature David immediately after that horrific shooting and even noted how 'poised' he was given the tragedy. As always, he's welcome to return to the show anytime for a productive discussion," Ingraham said in a series of two tweets.
Hours later, however, Hogg said he did not accept the apology.
"I 100% agree an apology in an effort just to save your advertisers is not enough," the Parkland student and gun control activist tweeted Thursday. "I will only accept your apology only if you denounce the way your network has treated my friends and I in this fight. It's time to love thy neighbor, not mudsling at children."
A day before her apology, after Hogg gave an interview to TMZ in which he said he had not been admitted into UCLA, Ingraham tweeted about the student "whining."
"David Hogg Rejected By Four Colleges To Which He Applied and whines about it," Ingraham tweet read. "(Dinged by UCLA with a 4.1 GPA...totally predictable given acceptance rates.)"
The tweet prompted a wave of criticism to head toward Igraham. Among the high profile critics was actor Chris Evans. "What is the purpose of this tweet? What is wrong with you? Are you actually proud of this? Regardless of your political beliefs and motivations, THIS is how you choose to present yourself? You must be so sad, angry and scared," Evans tweeted.
Meanwhile Hogg campaigned for advertisers to drop her Fox News show.
The campaign has now proved successful with over half a dozen advertisers now reportedly cutting ties with Laura Ingraham Fox News show.