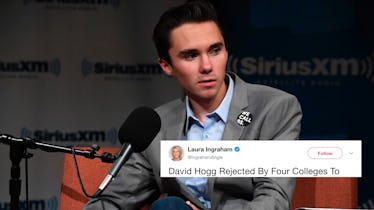 Parkland Students Are Calling For A Boycott Of A Fox News Host Over A Nasty Tweet
Larry French/Getty Images Entertainment/Getty Images
Is it me, or does it seem like a lot of adults have been yelling at teenagers who survived a mass shooting last month? This week brought a new back-and-forth between a Parkland survivor and a prominent media personality — this time involving an advertising boycott, college applications, and the student's GPA. So why is David Hogg protesting Laura Ingraham? The Fox News host "cyberbullied" the Parkland student on Twitter for "whining" about not getting into the University of California at Los Angeles (UCLA).
UPDATE: Ingraham wrote in a tweet on Thursday afternoon, "in the spirit of Holy Week, I apologize for any upset or hurt my tweet caused him or any of the brave victims of Parkland." She added that "any student should be proud of a 4.2 GPA and that she believes her show "was the first to feature David [...] immediately after that horrific shooting and even noted how 'poised' he was given the tragedy." You can see her tweets here:
EARLIER: "It's been kind of annoying having to deal with that and everything else that's been going on," Hogg, 17, said in a video published by TMZ, referring to his rejection letter, "but at this point, you know, we're changing the world. We're too busy. Right now it's hard to focus on that ... If colleges want to support us in that, great, if they don't, it doesn't matter, we're still going to change the world."
Those comments apparently caught the attention of the 54-year-old Fox News host, Ingraham, who tweeted out a link to a story about Hogg's rejection letters in The Daily Wire, with her added commentary.
"David Hogg Rejected By Four Colleges To Which He Applied and whines about it," Ingraham tweeted. "Dinged by UCLA with a 4.1 GPA...totally predictable given acceptance rates."
Amid outcry on Twitter at her comments, Ingraham didn't respond to her divisive remarks Thursday morning (though she did tweet about how much she loved the Roseanne reboot.)
Hogg, on the other hand, tweeted out a list of the top advertisers of The Ingraham Angle, her weeknight opinion show on Fox News, which quickly gained a lot of support — similar to that of Sean Hannity and Bill O'Reilly boycotts in 2017.
Hogg's tweet listed companies from mattress retailer Sleep Number, to AT&T, to Arby's.
Harvey Levin, who interviewed Hogg for the TMZ video, was quick to decry Ingraham's comment.
"David was not whining," Levin said in a tweet to Ingraham. "I called him about the story. He was not feeling sorry for himself in the slightest. It was my idea that colleges should consider applicants who are so committed. Did you watch the video???"
Lauren Hogg, David's sister, as well as several other Parkland survivors came to David's defense.
Hogg was reportedly rejected by four of the University of California campuses where he submitted applications, per TMZ: UCLA, UCSD, UCSB, and UC Irvine. Hogg told Levin that he has a 4.2 GPA and an SAT score of 1270. Hogg also told Levin that his classmate Ryan Deitsch also got rejected from the University of California system, and that Emma Gonzalez would attend a liberal arts school, New College of Florida.
So, who is Laura Ingraham?
Ingraham hosts The Ingraham Angle, which airs weeknights on Fox News at 10 p.m. She had been a paid contributor to the right-leaning network since 2007, and in September 2017 she was given a big promotion — her own show.
When Megyn Kelly left for NBC in January 2017, Tucker Carlson took over her 9 p.m. time slot. When Bill O'Reilly was removed amid a sexual harassment scandal in April 2017, Carlson moved into O'Reilly's 8 p.m. time slot. That made an opening for Ingraham, who had been an early supporter of Donald Trump and defender of his racist remarks about Mexicans early on in the campaign. She also has three adopted children — a daughter from Guatemala and two sons from Russia.
Twitter reacted to Ingraham's comments.
Parkland students and advocates took to Twitter Wednesday night into Thursday morning to denounce Ingraham's characterization of Hogg as "whining," as well as to dig up dirt on her past — specifically relating to her views of homosexuality.
It's unclear whether this latest boycott effort will reach Hannity- and O'Reilly-level proportions, but it's safe to say Ingraham's comments have not gone unnoticed.