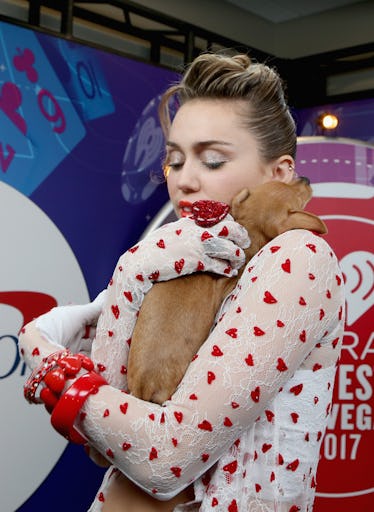 These 9 Celebrities Have Rescued Pets & They're Seriously Inspiring
Gabe Ginsberg/Getty Images Entertainment/Getty Images
Zac Efron recently adopted a dog that was going to be put down, proving that the boy who once played Troy Bolton has grown into a real-life hero. The former Disney star joins a long list of celebrities who are going the #adoptdontshop route by choosing to adopt their pets instead of buying them. As a dog lover, I am totally digging this trend, as well as the fact that many of the A-listers are using their star power to help spread the word on social media. Check out these nine celebrities who have rescued pets of their own, and are now inspiring others to do the same.
1. Zac Efron
The High School Musical star first spotted his beautiful dog at a humane pet shop in Los Angeles called Bark N' B*tches, and it was basically love at first sight. "This guy named Zac Efron came in (we hear he is an actor, but we think he actually waits tables) and fell in love," the store explained on its Instagram page. "He went through our application process and fostered MACA and just could not give her back."
"Hey planet 🌎," Efron added on his own Instagram page. "This is MACA. #adoptdontshop." Short, sweet, and perfectly to the point!
2. Miley Cyrus
Miley Cyrus is a huge animal lover and is constantly posting images of her many adopted pets — which include seven dogs, a pig, and two mini horses — on her Instagram feed. She rescued her pit bull, Mary Jane, the day Mary Jane was scheduled to be euthanized. "Get out there and rescue some dogs and change their lives," she told People. The "Malibu" singer is so in love with Mary Jane, she recently decided to make it permanent by getting a design of her pup's face inked on her right elbow:
3. Selena Gomez
The "Wolves" singer has rescued so many dogs. There's Willie, Wallace, Fina, Chip, and Chazz. Plus, Baylor — a husky mix she adopted while on a trip to Canada with Justin Bieber — and Charlie, the Cavalier King Charles Spaniel that she adopted with The Weeknd.
"In Texas, where we're from, there are a lot of dogs that need homes," Gomez told People. "It just never made sense to any of us not to get a shelter dog, since there are so many that need homes."
4. Amanda Seyfried
Seyfried is a longtime canine lover who constantly posts pics on Instagram with her adopted dog, Finn. Recently, she teamed up with Best Friends Animal Society to help raise money and awareness for the more than 9,000 dogs and cats killed every day in America's shelters. "It doesn't need to be this way," she told People. "We don't need commercial breeding — we just don't."
5. Olivia Wilde
Wilde took to Instagram in July 2017 to introduce her followers to her rescue dog, Elvis, and encourage them all to save dogs, too. "He's lived a pretty harrowing life so far, and we are so lucky he adopted us as his new family, so we can treat him like the king he was born to be," she wrote. "This is our second adopted furry son and we cannot recommend it enough. There are so many animals looking for homes. This little guy was next on the kill list at a shelter in Texas not too long ago! 😫 Please consider saving a dog today. ❤ #adoptdontshop"
6. Kristin Bell
Kristen Bell has not only fostered dogs — like the adorable Muppet — but she also consistently speaks out about rescuing her own pets, like her sweet adopted dog Lola.
"I chose to adopt as opposed to go to a breeder because I wanted a family member, not a handbag," she explained in a video supporting the Wallis Annenberg PetSpace. "I think a lot about all the animals that are in the pounds right now that don't have homes that are put down because people don't rescue enough. And I wanted to save a life."
7. Sarah Hyland
Hyland loves animals, and constantly posts pics of her dogs on social media in order to encourage others to adopt. She has an adorable adopted Maltipoo named Barkley — who she once described to People as her "significant other" —  and another pup named Boo, who she rescued back in 2015 with her ex-boyfriend Dominic Sherwood. In 2016, the actress was recognized with the ASPCA Voice for Animals Award to honor her efforts in increasing awareness and inspiring action on behalf of animals in crisis.
8. Wells Adams
The former Bachelorette contestant is currently dating Hyland and shares her passion for helping animals. He adopted his bloodhound, Carl, back in 2014. And while his main gig at the moment is as a radio DJ, he also volunteers for the Nashville Humane Association, which places more than 4,020 animals into homes every year.
"We'll talk about the dog on the air and take pictures," Adams told People in 2016. "I'm a big dog person, so anything I can do to help the National Humane Association, I'd do."
9. Chris Evans
Evans loves to share pics on Twitter of his beloved rescue dog, Dodger. In honor of National Pet Day on April 11, he even shared the sweetest video of of the very first moment he saw Dodger, with a reminder to his fans about how important it is to adopt.
"This is the moment we met," he explained in the caption of his tweet. "He was trying so hard to stay seated even though he desperately wanted to get out. I knew right away that he was coming home with me, so I took this video to always remember our first hello. Rescue dogs are the best dogs!!"
Just look at that tail wagging! I could legit watch this clip all day — you know, after I go google the nearest shelter.