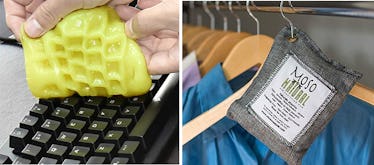 These 50 Products Are The Most Clever Things Trending On Amazon Now
Not all products are cool enough to become trendsetters. There's a good chance you've never seen an ordinary blender trending — but a personal blender that also cuts down on mess? Now that's something to get excited about. This list features some of the most clever things trending on Amazon now. If you're someone who loves to be in the know (and who gets a kick out of sharing the wealth with friends and family) these are the hot items that will get everyone talking (and shopping).
You'll find a little something for everybody on this list of brilliant products. Searching for an inexpensive way to update your home? Then you'll definitely want to check out the smart plugs and light bulbs that work with voice commands and can save you major money when you set them to schedules via an app. Or maybe you're tired of your feet growing sweaty inside of your ballet flats? The ballet-inspired breathable, no-show socks on this list are pretty much calling your name.
From savvy tech products like extra-long lightning cables to an alarm clock that mimics natural sunlight and provides the calmest wake-up call, these are the clever products that satisfy every one of your shopping needs.