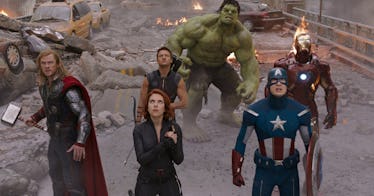 These 5 Avengers Got Matching Tattoos & Officially Put All Other #SquadGoals To Shame
MARVEL
The Avengers are actually close in real life, you guys — and now they've got the ink to prove it. Hey, when your movie has the biggest box office opening of all time, how are you supposed to commemorate the experience in a a major way? By making your love for the mega-popular franchise permanent, of course. According to Iron Man himself, five Avengers got matching tattoos recently, thus bonding the co-stars to one another forever. There might be a less painful way to mark the occasion, but apparently, these on-screen superheroes decided to go for it.
Robert Downey Jr. revealed to Entertainment Weekly that the tattoo idea was actually thanks to the mind of Scarlett Johansson. But who was the Avenger who decided to forego the ink? Allow Downey to explain the chain of events:
Five of the original six Avengers got a tattoo. And the sixth was the tattoo artist, who gave it to five of us, the one who opted out being Mark Ruffalo. It was [Scarlett] Johansson's idea, and she and [Chris] Evans did it in New York. Then, their New York guy, Josh Lord, who is amazing, flew out to LA, he did me, did [Jeremy] Renner, and then we just bullied [Chris] Hemsworth into doing it, and he got it.
Downey chronicled the experience on Instagram, posting clips of himself in full tattooing swing, surrounded by pals and partners-in-ink Scarlett Johansson, Jeremy Renner, and Chris Hemsworth. Chris Evans was absent for the event, but his "friends from work" shouted him out in a cute video message. Aww. Superhero squad goals, indeed.
Clearly, the tattoos were related to their hit film (you didn't think they all got barbed wire arm bands, did you?), as it appears to be an Avengers logo with a 6 connected to it. Tattoo artist Joshua Lord took to Instagram on May 7 to express his excitement, writing, "Oh man!!! I can finally post this!!! It's revealed by the man himself! Avengers Assemble!!!"
Hopefully, the Hulk doesn't have too much FOMO (Mark Ruffalo actually posted on March 1 that he would be taking a social media break), because the whole thing looks like an unforgettable moment for this superstar team.
The first Iron Man movie came out a decade ago and Marvel's The Avengers was released in 2011, so this cast has some serious co-working history together. Over the years, they've even worked alongside one another in projects outside of the MCU — Scarlett Johansson and Chris Evans were love interests in 2007's The Nanny Diaries, Mark Ruffalo and Robert Downey Jr. investigated unsolved murders in Zodiac that same year, and Iron Man director Jon Favreau enlisted the help of Downey and Johansson for 2014's Chef. As if these people don't spend enough time together... at least we know they like each other so much that they're willing to etch a symbol on their skin for eternity.
If you need further proof that this cast truly enjoys working together, Marvel released a featurette to promote Avengers: Infinity War back in April that showcased the "family" feel that exists on set. Mark Ruffalo lovingly referred to Robert Downey Jr. as the "godfather" of the whole group. "It has literally been the adventure of a lifetime," Downey added. "I get a little misty thinking about it, so I lucked out."
Yeah, ya did. Not only is the latest Avengers blockbuster one of the most successful movies ever, a fourth movie is on the horizon that could go on to break even more records. Perhaps other extended members of the cast will join the exclusive Avengers tattoo club after its release.