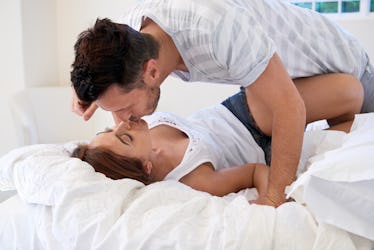 These 4 Zodiac Signs Are The Most Generous In Bed, If You're Looking For A New FWB
When you're on the lookout for a new hookup buddy, no doubt you have some essential criteria. They have to be attractive, available, and know the rules. (Aka, don't be catching any feelings.) But there's one more thing you should add to your list of must have attributes: a generous lover. I mean, what even is the point of a friend-with-benefits (FWB) if they aren't prioritizing your needs and a good time, right? By knowing the zodiac signs that are the most generous in bed, you can have an idea if someone is going to fit the bill without having to take them for a test ride first.
Before we get into who you should consider for FWB status, here are the signs you should probably avoid. Aries may sure seem exciting and fun (and they are), but you should only add them to your roster if you like spontaneous quickies, where your pleasure is extremely secondary. The same goes for Leo. They may be gorgeous and charming, but they are also pretty self-centered when it comes to to the sensual arts. And lastly, Pisces, despite being born romantic, tend toward the pillow-queen variety, so unless your speed is power top, they probably won't give you what you need.
OK, enough with the negativity! Here are the signs that are most likely to be super stars when it comes to being generous in the bedroom.