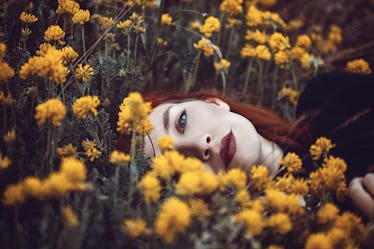 These 3 Zodiac Signs Will Have The Worst Full Moon In Taurus, But There's More At Play Here
There's a powerful lunation coming, and while the majority of us are still discovering different parts of ourselves, that are lurking in the depths of Scorpio season, we still have no choice but to confront our demons. These three zodiac signs will have the worst full moon in Taurus 2018: Gemini, Scorpio, and Aquarius. But this is simply because what once was, is no longer, and each of us are individually evolving into better version of ourselves. In the midst of this, we are releasing what no longer serves our highest good. Speaking of release; Venus, planet of love and relationships, is retrograde in Scorpio, and the upcoming full moon will be governed by Venus herself. Need I say more?
As you may already know, there will be a full moon in sensual Taurus on Oct. 24, which is also right at the kick off of Scorpio season. Remember, when there is a full moon, the sun is directly opposite the moon in the sky, and in this case, the sun in spiritual Scorpio is opposing the moon in practical Taurus. Makes sense? However, this won't be your typical Taurus full moon, as its planetary ruler Venus is still not working at its full potential. This retrograde cycle has been pushing us to re-evaluate our relationships, values, and self-worth, and in smoldering Scorpio, it hasn't been the easiest. Not even close.
In the meantime, hang in there, and here's a closer look at why Gemini, Scorpio, and Aquarius should mentally prepare for this upcoming lunation:
Gemini: You're Letting Go And Starting Again
There's nothing to be afraid of, Gemini. On the contrary, you're evolving, healing, growing, and starting over. This full moon will illuminate your secretive twelfth house of endings and beginnings, bringing you much-needed closure. However, in the midst of this, you could also feel latched onto a toxic relationship, or situation, that might be almost impossible to let go of. Listen to your intuition, as it will be razor sharp during this time. In fact, don't be surprised if your dreams are extra vivid during this time as well. Also, make sure you take sometime for yourself. You and your spirit need rest.
Scorpio: You're Telling People Like It Is, No Holding Back
Let's face it: You're in the midst of a major revolution, in terms of your one-on-one relationships. Truth is, you're not the same person you used to be, and that's a beautiful thing. However, this full moon in Taurus will also illuminate this area of your chart, which could also spark some unexpected endings, thanks to electric Uranus. Are you ready to face your people-pleasing fears, and stand up for yourself? Do the people in your life measure up to your self-worth? This could also bring a sudden new beginning to one of your current partnerships. Don't doubt yourself anymore, Scorpio. Stand in your power.
Aquarius: You're Hot, Bothered, And Emotional AF
Oh, Aquarius. Everyone knows you hate anything remotely emotional. It's almost an insult to your intelligence. In your eyes, it's the thought of, "Who on earth would waste a minute of their time channeling their emotions?" Granted, anything lovey dovey, or perhaps "softhearted" isn't your thing.
However, there is a time and place for everything, and this full moon may just do the trick, as it will illuminate your domestic fourth house of home, family, and soul foundation. That's right, the full moon will put a spotlight on the things that make you feel sentimental, not to mention matters related to your family and loved ones. Put your guard away, Aquarius. Don't be afraid to feel.