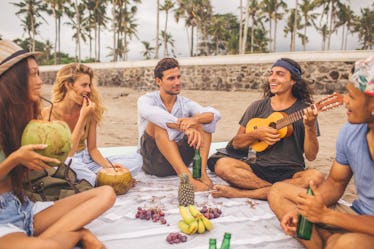 These 3 Zodiac Signs Will Have The Best Sagittarius Season, So Tap Into The Adventure
The season of the archer is upon us, and I couldn't be more thrilled. TBH, I have nothing against Scorpio season, but Sagittarius feels like a breath of fresh air, compared to that of smoldering Scorpio. These three zodiac signs will have the best Sagittarius season 2018, and they know it's true: Leo, Libra, and Sagittarius. Granted, reading your horoscope is always a thrill, but astrology is so much more than that. Which reminds me, if there's one thing the cosmos have taught me, it's to surrender. The seasons change, and so do we. Resisting change will get you nowhere.
We can't deny that 2018 will be a year to remember, and for so many reasons. However, I dare to say that this year was also a blessing in disguise, considering we witnessed the incredible strength that lives within us all, after not knowing it even existed. From intense retrograde cycles, to life-changing eclipses, 2018 has been a pivotal moment in our lives, both personally and collectively speaking. What have you learned about yourself this year? Are your current partnerships, and relationships in general, going to make the cut? I guess if you really think about it, this year sort of feels like a harsh winter, right?
Nevertheless, it's time to change up the vibe, stargazers. Sagittarius season is always fun, but don't let the sign of the archer's optimism fool you for a second. This season will be action packed, and I'll explain why. For starters, there will be a full moon in Gemini on Nov. 23, which is literally the second day of Sag season. There's more. Neptune goes direct the following day, and Mercury retrograde and Venus slide back into powerful Scorpio. Need I say more? Luckily for us, both Mercury and Chiron station direct in December, so we'll definitely feel a shift.
Anyway, here's what's in store for Leo, Libra and Sagittarius this season:
Leo: It's Party Time
Alright, so I know it's Sag season and all, but this time of the year is all you, Leo. The sun is traveling through your expressive fifth house of fun, romance, and individuality during this time. It's actually even better than that, considering lucky Jupiter is here too, expanding your creative horizons, for the next 13 months! Sagittarius is after all your sister sign, as you both share the same astrological element. Oh, and, Neptune finally goes direct in Pisces, and your eighth house of sex and transformation. Enough with the wishy washy feels! You will definitely have more clarity after this.
Libra: You're Mingling And Making Connections
You made it, Libra. Your ruling planet Venus goes direct just in time for Sag season, and that in itself is such a weight off! The sun and Jupiter will be traveling through your chatty third house of communication, and thought process, energizing and revitalizing this area of your chart. Have you been active on social media lately? Your cellphone will be buzzing with text messages and notifications this season, so get ready for a little mental stimulation. In fact, if you've considered the idea of launching a new digital project, or sending a mail blast to your clients and prospects, Jupiter is on your side.
Sagittarius: It's Your Epic Solar Return
Happy birthday, Sagittarius! It's the most wonderful time of the year, literally. Now, this is a pretty epic solar return, if you ask me. Jupiter, your larger-than-life ruling planet, has finally returned to its home sign, for the next 13 months. What are you goals for the next year? Have you considered planning a trip somewhere? Whatever you do, make sure you wait for Mercury the messenger to station direct. The curious messenger will begin traveling backwards through your sign on Nov. 16 through Dec. 6. In the meantime, make sure you let Jupiter be your guide.